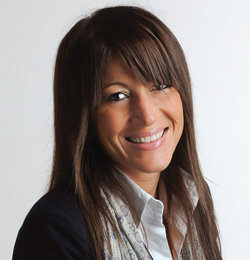 Digital Insurance is a Matter of Fact
The Digital evolution is shaping the insurance industry in a stunning fashion. To face this phenomenon Insurers have to react quickly and how they do it will impact on their short-, medium- and long-term strategies.
But which are the best investments for Insurers to join the digital revolution? A first answer comes from the improvement in customer experience thanks to front-end Insurers legacy applications, now with more responsive and smart technologies, including business process management (BPM) solutions, portals and analytics.
Today, CIOs have to figure out all of the options available and how to identify the right solutions to support these wide, multiyear initiatives. Read more
Elena Pistone
RGI Corporate Marketing & Strategic Partnerships Director

Kimberly Harris-Ferrante
21 March 2016
Digital technologies such as analytics and complex-event processing give P&C and life insurers a platform that enables them to better understand risk, and help their customers manage it. CIOs must build IT agility that enables insurers to shift from risk management to risk prevention.
Key Findings
As the industry embraces digitalization, innovative business and IT leaders in both property and casualty (P&C) and life insurance companies are adopting strategies to make the transition from risk management to risk prevention.
Technology innovation – especially the Internet of Things (IoT), predictive modeling and advanced analytics – is laying the foundation for establishing policyholder risk prevention programs.
Consumer data shows early signs of consumers' acceptance of risk prevention programs and the value derived from their insurers offering them information to avoid risks – and, therefore, claims.
The IT requirements for risk prevention programs are complex and large-scale, and CIOs must immediately begin to build a bimodal, agile and real-time IT landscape for complex-event processing.
Recommendations
Life and P&C insurance CIOs should:
Work with business partners to evaluate the opportunities for risk prevention, and identify the underlying business and technology changes that are needed to fulfill this model.
Assess the analytical capabilities to support real-time risk prevention modeling. Determine whether you have sufficient data sources, and access to enterprise data, analytical tools and modeling competencies, to support this business strategy.
RGI Content
Technology Outlook
RGI's Vision about Digital Disruption
There are over 3 billion people connected to the internet right now, via any kind of device and connection. The word "Digital" influences every part of our daily life, from the office to home.
Usage Based Insurance
The global insurance industry is emerging from a combination of financial chatting and digital transformation.
Up to the Minute
Insurers are Investing in Data Scientists
Today Insurers have the chance to positively reinvent themselves. In recent years the opportunities offered by the availability of the data, whose amount has risen from 2.6 to 276 billion gigabytes in the last 20 years, as well as the new IT technologies developments to use them, have incredibly increased.
It is time for the Chief Digital Officer!
Customers want more, and what they want is more digital. Business intelligence, data analytics, and the value delivered to the business from SCAM (social, cloud, analytics and mobile) are now the primary drivers of corporate strategies. The digital transformation is becoming a hot topic for Insures, which are starting to adopt digital tools such as analytics, IoT and Big Data to catch on the challenges and opportunities of the digital innovation wave.
Business Guidelines
Crédit Agricole and RGI: the Claim in a Click
The claim is a pivotal moment for an insurance company because it is one of the rare occasions on which they meet the customer. Making the insured's experience as satisfying as possible is therefore an ever more important strategic objective, especially in the claim opening phase, which may prove crucial to enhancing customer satisfaction and the customer experience.