Hype Cycle for Digital Insurance, 2014
Digitalization will radically transform the insurance industry, enabling new products, services and business models. This transformation will take many years to complete, forcing life and P&C insurance CIOs to start now and actively embrace new technologies and support business strategies.
Analysis
What You Need to Know
Gartner's 2014 CIO survey1 shows that digitalization is among the highest technology priorities for insurance CIOs in 2014. Digitalization, in an insurance industry context, means both optimizing and enhancing existing business transactions as well as shifting the fundamental insurer business model to support radically new products and services. Digitalization affects the entire value chain, including distribution channels, content and business transactions, without entirely replacing traditional practices (e.g., hard-copy documents and correspondence, face-to-face interactions and call center volume). The balance between careful enhancement and radical modification of the business will depend on geography, line of business, corporate strategy and customer preferences. Digitalization will have to integrate with many established and emerging strategies, including customer experience management (CEM), customer relationship management (CRM), e-business/e-commerce/Internet insurance, multichannel integration, mobility and paperless operating models. Digital insurance is the leverage of information and technology to enable new capabilities across the insurance value chain for optimizing, transforming and creating new insurance products, services and revenue sources.
Many insurance CIOs are under pressure to support their companies' digital transformation and develop a road map for technologies that can support digital enablement across the entire insurance value chain. We have found in our research, though, that most insurers' digital maturity is still low. Only 24% of insurance companies can be classified as "digital progressives" – that is, insurers with a formal and centrally coordinated digital strategy, as well as a high percentage of premium income attributed to digital products and services, and just 10% have designated a chief digital officer. And only 17% of the participants in a Gartner webinar conducted in January 20141 considered themselves to be digital leaders with a progressive digital strategy. Numerous workshops with insurance CIOs and other IT executives have shown that the digital maturity of insurers' IT departments has fallen behind that of their business departments. The average value for digital IT maturity among 48 workshop respondents was 7.7 (the maximum value was 15), which is 2.2 points less than the average digital business maturity value. While this is only a subjective self-assessment and a high absolute number doesn't imply that an enterprise is digitalized, the difference between IT and business maturity is an indicator for a potentially increasing strategy and capability gap. To address this, we have developed a maturity assessment that enables IT leaders in insurance to determine their current level of digital maturity.
Many insurance CIOs are either not able or not willing to aggressively pursue a digital strategy due to organizational, cultural and budgetary constraints. Gartner research indicates that 71% of insurers consider themselves to be either late technology adopters or expect to develop a digital strategy that evolves comparatively slowly. Another limiting factor for digital maturity is financial and HR constraints. Gartner research shows that insurers' average IT spending will grow by only 3.2% in 2014. Insurance CIOs need to spend 61% of their annual IT budgets simply on running the business, which typically leaves them unable to support the transformational IT activities of which digitalization is an integral part. Insurance CIOs' digitalization efforts are also challenged by an industrywide shortage of personnel who are knowledgeable about many of the new technology and business trends listed in this Hype Cycle, such as wearable user interfaces.
Fully 40% of the respondents of Gartner's 2014 CIO survey agreed with the statement: "The business and IT organization is facing a digital torrent, and cannot respond." Demographics are an important factor: Various surveys have shown that the average age of individuals working in the insurance industry has grown significantly. In the U.S., the percentage of workers at the 55 to 64 and 65-and-over age groups in the industry rose by about 38% and 10%, respectively, during 2000 through 2007 period. These changes seemed to be greater than the changes in the national average (see "Talent Pressures and the Aging Workforce: Responsive Action Steps for the Finance and Insurance Sector," 2010, by Sweet et al.). The insurance industry needs to find ways to make itself attractive to newly graduated IT professionals. According to Gartner unpublished research, mainframe-based applications using older programming languages such as COBOL – which are unpopular with younger programmers and other IT professionals – still represent a considerable or even major part of 53% of insurers' IT infrastructures. These legacy systems make insurance less popular for young professionals. A 2014 study of more than 4,000 engineering and IT students conducted by McKinsey & Co. and e-fellows.net showed that insurance was, together with retail, the least popular industry.
This was the primary motivation for Gartner in developing this new Hype Cycle, which comprises a collection of horizontal technology trends that can be leveraged in an insurance context (such as the Internet of Things [IoT] and cloud computing), as well as industry-specific technologies (such as predictive underwriting solutions). We believe this Hype Cycle will be of great value for insurance CIOs who are uncertain about the maturity and viability of various digital business and technology trends.
Gartner believes the success of an insurer's digital transformation projects will depend on a strong technology foundation, central coordination of the digital strategy and savvy IT-business leadership that is closely aligned with the company's business strategy – but that many insurers do not currently have these components in place. Insurance CIOs need to understand how emerging technologies and business trends, such as crowdsourcing, the quantified self and gamification, can be leveraged to open up new business opportunities and marshal business support for transformational initiatives within their companies. IT leaders who do not want to miss the chance to be considered as strategic business partners need to take more risks in supporting disruptive innovation.
The Hype Cycle
Hype Cycle for Digital Insurance, 2014 (see Figure 1) – produced for the first time in 2014 – assembles key technologies and business trends that Gartner believes should be considered in the development of a digital technology road map. Life and P&C insurance companies' CIOs and IT managers should use this Hype Cycle to determine the maturity, benefits and risks of emerging and developing technologies, as well as their applicability to their digital insurance strategies. They should pay careful attention to each technology's adoption level, its business impact and the risks associated with its use (including driving sufficient user adoption, technology considerations, vendor immaturity and integration challenges).
Gartner sees huge opportunities for growth and innovation in the digital insurance space through 2014 and beyond, driven primarily by a set of four converging and mutually reinforcing "macro" social, cultural and technological factors that are driving new and radically different business scenarios. We define the interactions among these four factors – information, mobile communications, the social commons and the cloud – as the Nexus of Forces. In the nexus, information is the context for delivering enhanced social and mobile experiences. Mobile devices are a platform for effective social networking and new ways of working and collaborating. Social media links people to their work and to one another in new and unexpected ways. Finally, the cloud enables the delivery of information and functionality to both users and systems. These forces intertwine to create a user-driven ecosystem of modern computing – one that is resulting in fundamental changes in the insurance industry to business practices, economic frameworks and cultural behaviors.
The nexus is reshaping the insurance industry, and forcing life and P&C insurers' business and IT executives to develop a digital business and IT strategy focusing on external and internal transformation. Externally, insurers face significant shifts in consumer behavior and preferences, as well as new regulatory requirements, and both of these factors will have a large-scale impact on their IT investments. Insurers will, for example, need to ensure that their products, channels and processes all meet the needs not only of their existing customer bases, but also of their target markets and future market segments. New technologies and business trends, such as telematics and augmented reality applications, will have a significant impact on various core insurance business processes including product development and claims management. Digitalization will also lead to the transformation of traditional business models with new alliances and new competitors. Allianz, for example, recently announced a partnership with Deutsche Telekom to develop new insurance products and services based on smart home technologies. Facebook and Google have begun to develop financial products, and retailers such as the U.K.'s Tesco have begun offering innovative insurance products such as Box Insurance.
Operational efficiency (and associated cost savings) is another key aspect of digitalization in the insurance industry. Digitalization can deliver operational improvements that go beyond what existing technologies have provided:
Leveraging data in real time to better meet client demand
Re-engineering core business processes, such as the underwriting process, to drive greater profitability
Optimizing distribution to promote agent/broker efficiency and effectiveness (e.g., with mobile technologies)
Improving straight-through processing and reducing insurers' reliance on paper-based processes through a combination of new devices, e-apps and output generation technologies
Standardizing business processes by using analytics or portals to achieve better economies of scale (especially in multicountry environments)
Speeding up core business processes, such as policy issuance by using mobile applications
Offering more broker or customer self-services in areas such as electronic bill presentment and payment
These gains in operational efficiency gains will ultimately help insurers to become more customer-centric, more adaptive to changing customer needs and more efficient in supporting core business processes. They will also have a positive impact in helping insurers meet tighter solvency capital requirements in many regulatory jurisdictions. This Hype Cycle will assist insurance CIOs in developing and delivering this strategy.
The majority of the technologies and business trends described in this Hype Cycle are still early in their maturity life cycle, and many will not reach the Plateau of Productivity for five to 10 years. Gartner believes that insurance CIOs need to be aware of the impact and potentially transformative nature of these trends when developing digital IT strategy. Hype Cycle for Digital Insurance, 2014 offers insurance CIOs a basis for understanding emerging and existing technologies, prioritizing IT investments and assessing the risks of these technologies. Risk-averse companies should monitor technologies that are at the Technology Trigger and at the Peak of Inflated Expectations, and invest cautiously. Innovative insurance CIOs who would like to become digital leaders and are willing to accept higher risks should look to use emerging technologies throughout the Hype Cycle to achieve first-mover advantage and to differentiate their companies from the competition.
Figure 1. Hype Cycle for Digital Insurance, 2014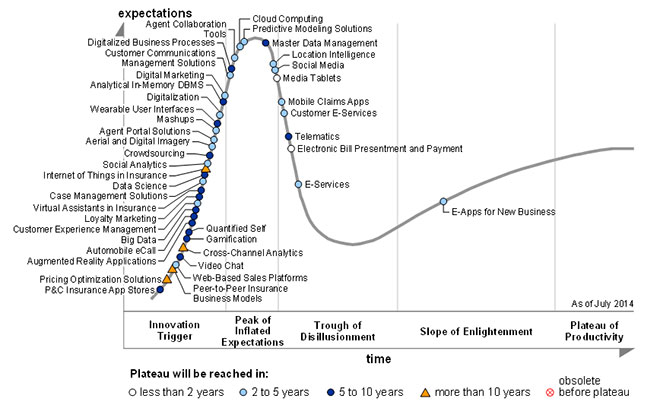 Source: Gartner (July 2014)
The Priority Matrix
The Priority Matrix (see Figure 2) provides an alternative perspective on the technologies in each Hype Cycle, categorizing each one in terms of its time to maturity and its impact.
Hype Cycle for Digital Insurance, 2014 highlights a broad range of technologies that will have an impact on the digital IT strategies of life and P&C insurance CIOs in the next 10 years. However, as the Priority Matrix makes clear, both the timelines and the relative impacts of these technologies will vary significantly. Only two (media tablets and electronic bill presentment and payment [EBPP]) have already achieved a level of market penetration that will allow them to reach the Plateau of Productivity within the next two years. The majority of the technologies are in the two- to five-year or five- to 10-year time frame, reflecting the fact that, while customer adoption of new technologies can be swift, the translation of those technologies into financially viable solutions in the insurance industry may take considerably longer. Some of these technologies have already achieved wider adoption in other industries, while they're still new and unproven in the insurance sector. Equally, it must be recognized that there will be regional variations for some of these technologies, with certain regions embracing new technologies more readily than others. Some technologies (e.g., augmented reality applications) will require a highly sophisticated telecommunications infrastructure, which is not yet established in many emerging insurance markets, such as India or China.
The impact of most of the technologies in this Hype Cycle also shows a grouping around the high-impact and moderate-impact areas. The ability of any single technology to drive transformation is limited. Nonetheless, Gartner has called out three technology and business trends in that sector that will have a significant impact on various elements of the insurance value chain:
Digitalization
Telematics
IoT
Digitalization enables companies to develop efficiencies, improved processes and agility that they could not achieve using a paper-dependent, hard-coded, disconnected and manual operating model. The IoT with telematics, being one example of it, has already begun to impact the insurance industry. In the next few years, this will lead to additional, completely new product and service offerings that can drive new sources of revenue for both life and P&C insurers, and provide them with new sources of data that can be applied to improve underwriting, claims management and other core insurance processes.
Figure 2. Priority Matrix for Digital Insurance, 2014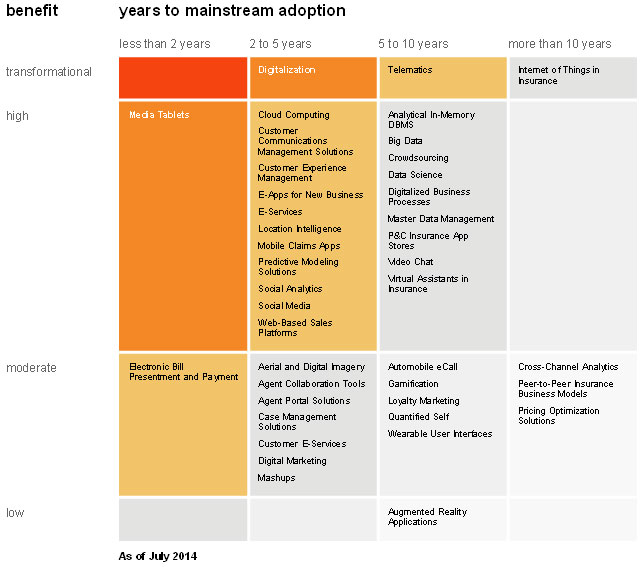 Source: Gartner (July 2014)
On the Rise
P&C Insurance App Stores
Analysis By: Jeff Haner
Definition: Property and casualty (P&C) insurance app stores facilitate the extension of core insurance solutions by providing a vendor-managed venue where add-on modules can be published and purchased. These app stores will offer the promise of increasing the speed and depth of enhancements to core solutions by encouraging customers to share add-ons with the broader customer user community.
Position and Adoption Speed Justification: This concept of the P&C insurance app store was impractical with the monolithic legacy systems of the past, which were homegrown or customized to the point that they were unique to each organization and difficult to integrate with other systems. It was common for the majority of insurers to be reinventing technology solutions to common challenges.
However, the barriers of the past are falling away as insurers have adopted packaged core solutions that share a common code base and facilitate easier access to data and integration with other systems. As a growing number of insurers deploy packaged core solutions from a single vendor, there are increasing opportunities to reuse solutions across the industry. While app stores have emerged in other industries, such as banking, no commercial P&C app store offerings are yet available. Gartner expects app stores to be offered first by vendors with modular core solutions, because conflicting internal priorities and finite IT resources within most insurers will prevent them from pursuing this concept.
Given the concerns about releasing intellectual property (IP) to competitors, P&C core solution vendors will initially limit app store participation to customers that have purchased their systems or the vendors' SI partners. Gartner expects a growing interest in P&C insurance app stores among P&C insurers due to their need for more business agility.
With the exception of formal policies and pricing, leading core solution vendors with large and growing customer communities already have several key elements in place and are in a position to introduce P&C insurance app stores:
Most core solution vendors provide knowledge transfers to their customers during implementation and have development environments that enable customers to operate self-sufficiently to enhance and extend their systems.
Some vendors publish partially completed add-on modules (sometimes called scripts or accelerators) that customers can download and tailor to add new capabilities specific to their requirements.
Some vendors with large customer bases have invested in social media technology and customer engagement programs to incorporate customer input into their technology road maps and foster a sense of community.
Core solution vendors that have more recently added or updated their configuration tools have deployed these tools via the cloud, providing more potential for collaboration with customers and partners on enhancements to their systems.
User Advice: P&C insurance CIOs:
Promote the concept of a P&C insurance app store within your core solution vendor's user community and SI partner network. Look for opportunities to partner with other users to realize some of the benefits of collaboration and reuse prior to the creation of an app store.
As app stores begin to emerge, use them as a way to accelerate enhancements or, potentially, to recoup the cost of investments in extending the core solution.
Before purchasing any apps, confirm that they comply with your local insurance regulations.
Business Impact: For vendors that are positioned to provide them, P&C insurance app stores will offer their customers the opportunity to pool their development resources, eliminate redundant efforts and more quickly drive new enhancements and richer functionality for common platforms. P&C insurance app stores will also enable customers to tap the subject matter expertise of vendor SI partners.
This concept will be threatening to some IT providers and insurers. However, for P&C insurers that recognize that core processing is increasingly a commodity and that their competitive advantage rests with other assets and capabilities, P&C insurance app stores offer insurers an opportunity to use their resources more efficiently and realize value more quickly from their investments in core solutions.
Benefit Rating: High
Market Penetration: Less than 1% of target audience
Maturity: Embryonic
Pricing Optimization Solutions
Analysis By: Kimberly Harris-Ferrante
Definition: Pricing optimization solutions are predictive modeling and analytical tools used by insurers to analyze a variety of datasets to help determine product pricing.
Position and Adoption Speed Justification: Pricing optimization solutions are emerging within the insurance industry, with early adopters in the U.K. and elsewhere in Europe. These solutions allow P&C insurers to mine a variety of internal and external data sources to determine the best price for new policies. Factors such as customer value, lifetime value, and value metrics can be used to help guide companies in generating the best price based upon relationship value.
Many countries in which pricing practices are highly regulated do not allow discounts or pricing to be based upon value metrics. In those countries, adoption will be difficult to justify and will be limited among insurers. However, insurers in countries that allow for new pricing structures will find pricing optimization a good opportunity, especially in highly commoditized markets. Markets such as personal auto are best suited for pricing optimization solutions in the short term, and direct insurers will be the first to adopt solutions to help them compete.
User Advice:
Assess the regulatory environment and the ability of local companies to leverage pricing optimization solutions.
Determine how new pricing models can be used to improve customer acquisition and retention, especially in highly competitive, commoditized markets.
Review with heads of customer relations how pricing optimization can reduce customer turnover, especially with highly profitable customer segments.
Business Impact: Pricing optimization solutions will help insurers retain their most valuable customers. They can strengthen long-term relationships by offering discounts and special pricing to the most profitable customers and to those who appreciate loyalty programs. Pricing optimization can help drive acquisition in key target markets, and long term, it can increase competitive differentiation, especially in highly commoditized markets and product lines.
Benefit Rating: Moderate
Market Penetration: Less than 1% of target audience
Maturity: Emerging
Sample Vendors: Earnix; LexisNexis; Towers Watson
Peer-to-Peer Insurance Business Models
Analysis By: Juergen Weiss
Definition: Peer-to-peer insurance business models bring together large groups of individuals who agree to pool their insurance premiums and insure one another at premium rates, which are typically lower than what these individuals are currently paying to third-party insurers. Peer-to-peer insurance is similar to peer-to-peer lending in banking, which is facilitated by forming communities of Internet users in a private marketplace.
Position and Adoption Speed Justification: Peer-to-peer insurance does not replace, and typically will be combined with, traditional insurance. This implies that insurance functions such as product definition, underwriting and policy management are still being performed by traditional insurers. The main difference is that a portion of the insurance risk is covered by community peers, while the rest is covered by traditional insurers. In addition, peer-to-peer insurance can be offered by intermediaries from outside the insurance industry that have established partnerships with insurers. Patterns of peer-to-peer insurance can already be traced today in some mutualized insurance schemes, in which insurance companies are owned by their policyholders. Gartner believes that general insurance (mainly personal automobile, household and general liability lines) will be the most likely target for this business model. In some regions, specifically emerging markets, peer-to-peer insurance might gain wider adoption in combination with microinsurance. A more likely target will be highly mature insurance markets with high Internet adoption and highly commoditized product lines, such as auto and household insurance.
Only a few insurers, such as the German company Friendsurance, are currently allowing individuals to develop their own risk pools by involving friends and family. Because of the growing importance of the Internet and the increasing popularity of social media, however, we do expect to see more of these offerings in the form of partnerships among traditional insurers and retailers, aggregators and social media providers. Gartner didn't see any new developments in 2013, and we don't expect wide adoption of this business model during the next 10 years. While this is, in theory, interesting for many insurers, it may not actually reach the plateau during the next decade. Barriers to wider adoption will be regulations, the lack of a critical mass of peers and participants' risk and trust considerations, as well as the need for a sustainable and profitable business model. Gartner expects peer-to-peer insurance to remain a niche offering for at least the next 10 years.
User Advice: Peer-to-peer insurance is driven by improvements in customer experience, and this business model could be highly appealing for users of social media, particularly for commodity insurance products such as personal lines. Search engines and social media providers such as Google, Facebook and Twitter are increasingly looking for additional revenue sources, and Gartner believes financial services will be one of the first areas they explore in developing new products and services for their users. Google, for example, has already launched an online payment processing service, while Facebook has introduced a virtual currency (Facebook Credits). Property and casualty (P&C) insurers should monitor the emergence of this business model and assess the potential benefits and threats that could arise from wider adoption. Leading insurers may also wish to consider establishing partnerships with search or social media providers to test such a business model, complementing their existing channels and customer services.
Another potential use case for peer-to-peer insurance is emerging markets in Asia and Africa, where many customer segments typically cannot afford high insurance premiums and where it is often too expensive to sell insurance via conventional sales channels. Local governments or nongovernment organizations would be appropriate entities to organize such communities. Personal line P&C insurers (especially for commodity products, such as motor or household insurance) that are operating in developing markets should explore this business model as an alternative to traditional distribution strategies. The cooperative character of peer-to-peer insurance would also be complementary to existing microinsurance strategies.
Insurers that are interested in this business model need to evaluate a number of legal and marketing issues. One common challenge will likely be local regulations, which could prohibit noninsurance organizations from engaging in peer-to-peer insurance. Another critical consideration is the potentially negative impact of this business model on branding and intermediary channels. One approach to addressing these concerns, in Gartner's estimation, would be a white-labeling strategy, with an insurer simply providing the underwriting and claim management services, but not its own branding.
Business Impact: Peer-to-peer insurance could turn out to be a bargain for the community members involved, leading to significantly lower insurance rates – provided that the group can properly manage fraud and risks. By eliminating intermediaries, for example, users can reduce administrative and commission costs considerably. Insurers could benefit from reduced insurance fraud, less misconduct via methods of community self-control, and potentially fewer small – and administratively complex – claims, which would be handled by the community members instead of the insurer. Peer-to-peer insurance could also become an interesting business model for P&C insurers trying to develop a viable commercial offering for social media and to address new customer segments. Gartner does not expect this to happen anytime soon, however, and believes that peer-to-peer insurance will remain a niche offering for at least the next 10 years.
Benefit Rating: Moderate
Market Penetration: Less than 1% of target audience
Maturity: Emerging
Web-Based Sales Platforms
Analysis By: Kimberly Harris-Ferrante
Definition: Web-based sales platforms are packaged solutions for property and casualty (P&C) insurance that support online quotation and policy issuance. These platforms are used primarily by companies that want to sell insurance direct to consumers. However, they can also be used for Web-based sales through agents and other distribution partners.
Position and Adoption Speed Justification: The demand for Web-based sales platforms has increased in the past 12 months as insurers look to better fulfill online sales and digitalization strategies. Direct insurers and those launching direct business models have been making great strides during this time to build a strong Web presence, including improved electronic fulfillment capabilities. Legacy policy systems and rating engines often cannot do online quotation and full policy issuance, with new applications required to support the end-to-end process. Many also want to create a Web-based, multichannel platform, which would support consumer-facing and intermediary-based businesses as well. Web-based sales platforms offer P&C insurers the ability to support sales transactions, while integrating into the insurers' core systems and agency management systems on the front end. They serve as rating and pricing engines to support the transaction, and would reside on the portal.
Web-based sales platforms are emerging with a low level of adoption to date. They are only starting to get traction in mature countries in Europe, Asia/Pacific and North America. Today, there are only a few vendors offering viable solutions, so selection is limited. Gartner projects that less than 1% of the target market has adopted, and the time to plateau is two to five years. This may happen faster, however, if dedication to e-commerce accelerates overall in the industry. Fears of channel conflict continue to paralyze many insurers that continue to rely on agent-based business models. Over the next two years, demographic and consumer behavioral shifts will challenge the traditional model for personal-line products, requiring that P&C insurers embrace more direct-to-consumer interactions, including e-commerce.
User Advice: As part of digitalization and customer-centricity, insurers need to prioritize e-commerce investments against those that support other channels. Sales processes must be evaluated to determine whether they meet the transaction, process and UI requirements of personal-line customers and distributors.
When building Web sales capabilities, consider how a single platform could be used for all partners and customers. This will help reduce IT costs, as well as help with process and pricing consistency across all channels. Consider Web-based sales platforms as essential parts of a multichannel platform, and invest accordingly. Select vendors that can be used for more than just direct-to-consumer sales.
Business Impact: Web-based sales platforms will allow insurers to offer fast and efficient quotation and policy issuance to consumers via the Web (PC and mobile), as well as improved sales capabilities to existing distribution partners. Having a single system will help reduce IT costs associated with building out sales support. It will also control pricing and quotation rules from a single rules/calculation engine, and provide a foundation that can be leveraged with future distribution partners, making the addition of a new channel fast and efficient.
Benefit Rating: High
Market Penetration: Less than 1% of target audience
Maturity: Emerging
Sample Vendors: Bolt Solutions; Entsia
Video Chat
Analysis By: Kimberly Harris-Ferrante
Definition: Live video chat with customer service and support agents will be broadly available over mobile devices, on websites and at kiosks to assist with a wide range of capabilities. Focused on putting a face back in front of the customer, the video chat can stream one way from the agent to the customer or both ways if the customer has a camera enabled.
Position and Adoption Speed Justification: consumers, many consumers need live interaction to answer questions about policies or coverage. Video chat can be a great option for insurers and agents/brokers to connect in real time with their customers. Adding video capabilities on the website to support online sales, policy or contract reviews, and e-service can be a competitive differentiator and help close sales. Today, few insurers offer this capability. Most companies are still building their next-generation Web architecture and strategy and have yet to deploy chat – much less video chat. Gartner projects that less than 1% of the target audience has deployed this capability, and the time to plateau will be five to 10 years, based upon the investment priorities for the industry.
User Advice: Insurers should carefully review their Web strategies and look for new methods to support real-time interactions with customers and consumers. Video chat should be a key investment priority for user experience improvements. It should be used within the insurer's call center and as a capability that can be deployed on agent portals to support interaction between agents and their customers.
Business Impact: Video chat will help insurers increase Web sales, reduce call center traffic from website issues and improve customer experiences on sales and customer service sites. Its use could reduce the number of field agents/brokers and shift interactions from the field to a centralized call center. If enabled at the agent office, video chat could also help agents improve customer relationships through real-time interactions.
Benefit Rating: High
Market Penetration: Less than 1% of target audience
Maturity: Adolescent
Sample Vendors: Apple; BlackBerry; HTC; Microsoft; Nokia; Samsung
Cross-Channel Analytics
Analysis By: Kimberly Harris-Ferrante
Definition: Cross-channel analytics is the process of tracking, integrating and analyzing the way that customers use a combination of available channels to interact most effectively with the organization. It covers all possible channels, including those with human interaction (such as a call center), those that are fully automated (such as a website or mobile device), those operated by third parties (such as an independent retail store) and those with limited two-way interaction (such as display advertising).
Position and Adoption Speed Justification: P&C and life insurers continue to build out channel strategies that include multichannel integration. New channels are being launched, creating a wider distribution network to match customer's emerging needs. This will provide consumers with more touchpoints, improved channel processes and the ability to have cross-channel interactions (e.g., those that start on one channel, but then continue seamlessly to another). As companies roll out this strategy, it is imperative that companies build improved visibility into channel traffic. The implementation of channel analytics will be required to aid insurers in understanding the interdependencies of the channels, consumer preferences and the gaps where channel integration is failing.
To date, however, most insurers have not implemented channel analytics. Most companies are still early in their multichannel deployments, focusing more on driving efficiencies and cost reductions across the channels than deploying analytical tools to understand channel performance. It is estimated that only 1% to 5% of insurers have adopted it to date. Gartner does not expect mainstream adoption in 2014, but growing interest in 2015 and beyond.
User Advice: Insurers should carefully understand their customer's channel needs, including role of each channel and integration requirements. Implement an analytical program. Identifying a few key processes that already span multiple channels (for example, customer service between a website and call center, or policy issuance across the Web and agency office) will give organizations the starting point for a more complete view of customer behavior across channels.
Business Impact: Organizations have little choice but to support the channels that customers wish to use, but most do so with poor understanding about how to maximize the possible synergy between these channels. Better understanding of how different customer segments prefer to use different combinations of channels can lead to better understanding of what functionality must be made available in each channel, and how the customer experience can be seamlessly continued from one channel to another to reduce the risk of customer abandonment or duplicated effort. The ability to better understand the impact each channel and interaction has on the overall relationship can also drive better attribution of investments to outcomes, significantly impacting organizational ROI.
Benefit Rating: Moderate
Market Penetration: 1% to 5% of target audience
Maturity: Adolescent
Sample Vendors: Adobe; ClickFox; iJento
Gamification
Analysis By: Juergen Weiss; Brian Burke
Definition: Gamification is the use of game mechanics and experience design to digitally engage and motivate people to achieve their goals. Gamification uses game mechanics such as points, challenges, leader boards and incentives to motivate the audience to higher and more meaningful levels of engagement.
Position and Adoption Speed Justification: Gamification technology comes in three forms:

1 General-purpose gamification platforms delivered as SaaS (for example, Badgeville, Bunchball and BigDoor) that integrate with custom-developed and vendor-supplied applications.

2 Purpose-built solutions supplied by a vendor to support a specific usage (for example, innovation management or service desk performance).

3 Purely custom implementations.
Gamification is used to change behaviors, develop skills or drive innovation, and it can be applied to many different challenges in the life and property and casualty (P&C) insurance industry (such as project management, distribution, customer engagement, education, employee and intermediary performance and innovation management). Examples of gamification in insurance include the collaboration between Farmers and Zynga, Helsana's Helsi game, AXA Equitable Life Insurance Company's Pass It On game as well as different telematics offerings that integrate gamification elements.
While gamification is still emerging as a trend in the insurance industry, it is already a key aspect of marketing campaigns and customer loyalty programs and is built into the product design of mobile apps and services. Gamification is also used to increase customer interaction and engagement, as well as for employee-facing functions. It is particularly useful for client segments (for example, in emerging markets or for younger populations) with little exposure to more complex life insurance products, such as annuities or pensions.
Gamification must overcome significant challenges before widespread adoption can occur. Insurers do not have skills in designing engaging experiences, so this is no easy task. Gamifying activities presents another challenge, one that requires careful planning, execution and iteration. Overcoming these challenges will require successive integration of gamification.
We expect gamification as a trend to slowly move along the Hype Cycle and gain broader adoption during the next five to 10 years. There has to be more insurance-specific use cases though, and solutions still need to mature.
User Advice: Gamification has many uses for target customers, intermediaries, employees or other defined audiences, and it affects many areas of an insurer's business. It can be particularly relevant for insurers that have very few interactions with their clients or need to position complex products that require a better client understanding. Well-designed gamification of e-services, customer- and agent-facing applications or enterprise processes can increase the frequency of client interactions, enable user interactivity and change behaviors that result in greater client, intermediary and user engagement.
Before designing the game mechanics, business and IT leaders in insurance must identify the organizational and player goals, determine an appropriate engagement model and player journey to change and sustain desired behaviors, and consider appropriate rewards or penalties. Levels are particularly important for insurance call centers and sales organizations as these departments often contain varied experience levels. Levels enable new and veteran participants to compete without newcomers becoming frustrated.
Insurers seeking to encourage adoption of social media internally with customers or intermediaries should examine where gamification can be used as a mechanism to inspire and reward social engagement, and to recognize contributions and participation that augment and further the community's purposes. Insurers should recognize that simply including game mechanics will not be sufficient for them to realize the core benefits of gamification. Making gamified solutions rewarding requires careful planning, design and implementation, with ongoing adjustments to keep users interested. Designing gamified solutions is unlike designing any other IT solution and requires a different design approach. Few people have gamification design skills, and this remains a huge barrier to success for gamified solutions.
Business Impact: Gamification techniques can be used in a wide range of scenarios to enhance product and service strategies, but insurers should focus on simpler and ideally internal cases first. Gamification techniques are relevant to enterprise stakeholders – including business unit managers, channel managers, product developers, customer service managers, financial managers and HR staff – whose aim is to bring about longer-lasting behavioral modifications and more meaningful interactions with customers, employees, intermediaries or the general public.
Once insurers have gained internal experience with gamification, they can also address customers, prospects and agents and educate them about product and service offerings, driving sales. Incorporating game mechanics encourages desirable behaviors and, with carefully planned scenarios and product strategies, can increase user participation, improve product and brand loyalty and build lasting and valuable relationships with the target audience. Gamification's effects should be measured by looking at key metrics such as Web page views or number of new leads or, in the long term, by evaluating changes of premium income.
Even though gamification can be beneficial, it can also have unintended consequences, such as behavioral side effects and gamification fatigue. It is important to design, plan and iterate on the use of gamification to avoid negative business impacts.
Benefit Rating: Moderate
Market Penetration: 1% to 5% of target audience
Maturity: Emerging
Sample Vendors: Badgeville; BigDoor; Bunchball
Quantified Self
Analysis By: Juergen Weiss; Mike Gotta; Frank Buytendijk
Definition: The quantified self refers to applications (or services) based on data about people's activities, biometrics, environment, and personal experiences that provide a higher level of user value from wearable and mobile devices, mobile apps, sensors, and other "things," such as self-tracking analytics, cross-sensor aggregation, social facilitation, observational learning, and individualized coaching.
Position and Adoption Speed Justification: Quantified self is a movement promoting the use of self-monitoring through a wide variety of sensors and devices. Analysis of this data allows individuals to gain a better understanding of their experiences and improve their well-being. Integration with social media allows users to connect with peers, share information, gain community support and learn from others. The quantified-self movement has become a catalyst for the socialization of new types of technology and behavior.
A few life and property and casualty (P&C) insurers have begun to leverage quantified-self applications to combine them with products and services. One use case is telematics, where insurance customers can track their driving behavior and share it with other customers. One German insurer created a telematics product, where the best driver is incentivized by getting one free month of premiums. Another use case is life insurance, where a Japanese insurer launched a product that motivates users to walk or run 10,000 steps per day by assigning loyalty points that can be exchanged for additional services. While we note interest among life and P&C insurers to introduce similar offerings, we believe that it will take five to 10 years before quantified-self applications will get wider adoption in the insurance industry due to cultural concerns (surveillance), potential regulatory constraints, societal acceptance (etiquettes), and business model challenges, such as the commonly low frequency of interactions between customers and insurers.
The number and variety of personal devices and self-tracking mobile apps that collect data and provide feedback to users is increasing. While a dedicated community of people is interested in quantified self as a life philosophy to improve their own well-being, there are other populations interested in quantified self to obtain medical insight or improve more-serious health conditions for themselves or help them in their caregiver roles.
User Advice: Marketers, innovation teams, and community strategies from life and P&C insurers should examine quantified self to help create a more social and collaborative brand experience, increase customer loyalty and develop a more proactive value proposition. These applications and devices might also allow insurance business leaders to leverage personal analytics to establish greater customer intimacy. Insurance IT managers may find several use cases for explorative data analysis with big data infrastructures to find, for example, correlations between quantified-self data and underwriting risks. Actuaries may find it useful to use the data gathered for developing new product and service offerings (for instance, premium refunds or bonuses if a person's body mass index [BMI] value improves). IT managers will have to review the capabilities of their product development and core policy administration systems for adding new product attributes. One important consideration is regulatory requirements, as well as data security provisions, to avoid data leakage to unauthorized third parties.
Business Impact: Insurance business strategists should ensure that proper policies and controls are in place to address user privacy concerns related to sharing of personal data gathered via wearable devices, sensors, and mobile apps. Organizations also need to invest in community management processes and ensure that personal participation needs and goals of community members are addressed. As people connect with peers, build relationships, and interact with each other through the use of wearable devices, sensors, and mobile apps, insurance business and IT managers may evaluate the need for customized applications and unanticipated integration with other sites or internal systems, such as billing and collections management. There are also behavioral, cultural, and societal factors that come into play that strategists need to address early during design activities.
As more people use mobile and social technologies to collect and assemble data about themselves and their immediate surroundings, business opportunities emerge to apply insights gained from personal analytics and community participation to improve brand/customer relationships and product/service innovation. Within the workplace, insurance organizations can create quantified-self incentives or requirements for employees to apply such analytics to measure performance or well-being, or to track employees for health and safety reasons. On the customer side, life and P&C insurers could benefit from enhancing and innovating usage-based products and services, such as pay-as-you-drive or pay-how-you-live initiatives. Even if insurance companies can't utilize quantified-self data for underwriting or product design, business leaders may use this information to educate clients and suggest behavioral or lifestyle changes.
Benefit Rating: Moderate
Market Penetration: 1% to 5% of target audience
Maturity: Emerging
Sample Vendors: Fitbit; Jawbone; Nike
Augmented Reality Applications
Analysis By: Juergen Weiss
Definition: Augmented reality (AR) overlays real-time integration of text, graphics, audio and other virtual enhancements on screens displaying real-world objects. Elements of AR applications are becoming social, and are increasingly centered on context-aware, location-based services for mobile devices.
Position and Adoption Speed Justification: AR applications have been introduced in different industries, including retail, manufacturing and media, during the past three years; however, there has been no adoption in the insurance industry to date. While most life and property and casualty (P&C) insurers have introduced mobile applications to service customers and to support agents or field workers such as claims adjusters, we are not aware of any insurer that is already using AR applications. However, Gartner has identified a number of interesting potential use cases for insurers:
Claims adjusters could use AR applications in the case of catastrophic events or general claims to view the initial status of a property, to navigate to the property postcatastrophe or to obtain additional information about nearby claims service providers, such as towing companies.
Life and P&C agents could visualize policy, health or other product details, such as loadings and deductibles, to prospects during application management.
P&C insurance agents could use AR applications for obtaining additional data, such as crime or loss statistics, when underwriting houses or physical property.
Insurers could use AR applications for marketing and sales purposes (for example, to display insurance rates or proposals for an insurable object).
Insurance field employees could use AR applications for knowledge sharing and collaboration.
Insurance customers could leverage AR applications (for example, in the form of real or virtual service representatives) during service requests such as claims notifications and contract change requests.
In our opinion, it will be more than 10 years before insurers adopt AR applications widely, and we primarily expect adoption from the leading industry players. Most insurance IT organizations will not have the skills to implement AR applications, and most of the vendors in this space will lack the insight to support industry-specific use cases.
User Advice: Insurance business and IT managers should first develop use case for AR applications that exist in their enterprises, and analyze whether these use cases will have a quantifiable business outcome in terms of improving current business processes. They should then analyze whether AR applications are compatible with their current mobile application strategies. AR applications are very demanding, even for high-end smartphones. Small screens, imprecise geolocation and inconsistent data mean that the AR user experience does not always live up to the concept. AR applications may also overburden many agents' or customers' technical abilities, leading to low adoption. Progressive insurers that are interested in deploying AR applications should start with a small pilot project and gather user feedback at an early stage to better understand whether these use cases actually support customer expectations or enhance the product and service experience. Insurance CIOs should perform solid due diligence to determine what type of integration with core insurance applications is needed and how AR applications can complement current core business processes, such as application processing, underwriting and claims management. One critical element for AR applications is the provision of up-to-date and real-time data. Performance and telecommunications infrastructure aspects are also important – especially for insurers in emerging markets.
Business Impact: AR applications can improve the user experience for employees and customers, reduce costs of core insurance processes such as underwriting and improve risk assessment/management. Interaction with AR applications could contribute to a better visualization of abstract insurance services and drive conversion from consumer interest to actual sales. Insurance agents could, for example, use AR to make the potential consequences of elementary risks, such as severe storms, much more tangible to customers. AR applications that are embedded in mobile agent applications could be used to give customers detailed information when purchasing complex insurance products or to facilitate underwriting. AR can also help less experienced agents obtain greater knowledge about products and services. AR applications could also be used postsale (for example, with easily downloadable AR manuals explaining how to use consumer portals to submit claims, change installment plans or perform other self-service functions) to increase customer satisfaction, improve loyalty and encourage positive customer recommendations to other customers.
Benefit Rating: Low
Market Penetration: Less than 1% of target audience
Maturity: Emerging
Sample Vendors: Aurasma; Iryss; Layar; Metaio; Total Immersion
Automobile eCall
Analysis By: Kimberly Harris-Ferrante; Thilo Koslowski
Definition: eCall refers to automotive telematics applications that automatically send an emergency signal in case of a vehicle accident. Additionally, it is the name of the European Commission's eCall initiative, which is a Pan-European proposal that encourages member states, public safety access points, automobile manufacturers, mobile network operators, service providers and automotive suppliers to collaborate to develop an automatic, wireless in-vehicle crash notification system.
Position and Adoption Speed Justification: In June 2013 the European Commission adopted two proposals to ensure that, by October 2015, cars will automatically call emergency services in case of a serious crash. Despite the EU's efforts to make eCall a priority for the automotive industry during the past eight years, automakers have only reluctantly obliged. New, cost-effective, flexible technology solutions recently introduced by automotive suppliers and telecommunications companies (for example, leveraging a Bluetooth-equipped phone to send out an emergency signal) are making the eCall initiative more realistic and affordable. This, in turn, is motivating vehicle manufacturers to refocus their strategies to find a solution in order to comply with the mandate. Although the eCall initiative is a European-centric effort, it is expected to influence legislation in other geographic areas because of the automotive industry's global harmonization efforts. Furthermore, eCall functionality is at the core of every telematics service provider offering in the United States and Asia.
Auto insurance companies are just beginning to look for ways to tap into eCall technology. Similar to their telematics implementations, auto insurers are considering how eCall technology can provide information to them on accidents and damage, which can further be used to help in insurance pricing and claims processing. eCall can easily provide insurers with early indicators of accidents so they can proactively find out if a customer needs a claim or value-added services, such as roadside assistance, paramedics or emergency responders. While the potential exists, few insurers have actively deployed such offerings to date (less than 1% of the target audience). European insurers, especially, are projected to tie investment to the newly developed regulation; however, investments elsewhere are not projected to rise in 2014-2015 due to the greater focus on telematics technology.
User Advice: Review all technology options in the connected car to identify value-added services. Evaluate how eCall can supplement ongoing telematics investments and how its use can help you compete in the auto insurance market. Assess local regulations and consumer needs to determine the viability of eCall integration.
Business Impact: eCall technology has the potential to assist auto insurers in many ways – supporting new product offerings, adding new value-added services like roadside assistance or helping to differentiate products – and, ultimately, to improve customer satisfaction, and therefore retention.
Benefit Rating: Moderate
Market Penetration: Less than 1% of target audience
Maturity: Adolescent
Sample Vendors: Continental; Luxoft; Magneti Marelli; Visteon
Big Data
Analysis By: Kimberly Harris-Ferrante
Definition: Big data is defined as high-volume, high-velocity, high-variety information assets that demand cost-effective, innovative forms of information processing for enhanced insight and decision making. In insurance, it impacts strategies for actuarial, claims, underwriting, customer intelligence and fraud.
Position and Adoption Speed Justification: Big data has become a focal point for insurers during the past two years. During this time, many insurers have begun to assess the opportunities and risks of big data, and the needed investments that their organizations will need to make in order to prepare for future data needs. Early adopters have begun big data pilots and deployments in targeted areas, such as customer intelligence, telematics or fraud, and seeing early results from these investments. Most other companies are still working on building the business case and assessing the opportunities that big data poses, as well as making needed investments in their foundational data assets to ensure that they can handle next-generation data requirements (for example, managing unstructured data and high-volume analytical processing).
Today, it is estimated that 5% to 20% of insurers have begun their big data journey, with projects spanning North America, Asia and Europe. Most companies with deployments, however, tend to be Tier 1 and large multinationals with relatively mature data architectures and teams that can quickly deploy these solutions without much organizational resistance. Smaller insurers often lack the budget, business buy-in or enterprise resources to initiate a big data project. With that said, Gartner expects interest and investments to continue throughout 2014 and 2015; however, time across the Hype Cycle is projected to be five to 10 years. It will take that long for big data to be used by mainstream insurers.
Through working with many companies, Gartner feels that property and casualty (P&C) and life insurers are not ready for big data, but must begin strategy development and big data readiness projects today. This includes:
Identifying new sources of data (internal, which are not utilized today, and new external sources, including third-party data and social data)
Assessing the value of data
Outlining the data required to answer core business questions
Assessing the IT environment of existing business intelligence, analytical and data warehouses
A focus on ensuring the right data, storage, models and resources is essential in preparing for future big data needs, such as for actuarial and underwriting, where additional data can significantly help with risk management, fraud identification, pricing and cross-selling/upselling. Other areas that are less developed are in claims, new products (including telematics or pay-as-you-drive auto insurance) and marketing.
User Advice:
Develop an enterprise big data strategy. Identify the business requirements for data by documenting the main decisions that business leaders need to make and the data that is required to support those decisions.
Inventory data assets and identify new sources of data to augment their existing sources. Identify the analysis capabilities for structured and unstructured data, as well as managing real-time data, such as social data.
Evaluate how new sources of data will fuel the need for big data in the future. This includes machine-to-machine data (such as telematics in auto insurance, data from wearable devices, or data derived from mobile devices such as contextual computing or GPS data), location intelligence and social data.
Evaluate data storage capacity as data volumes increase. Assess data warehousing environments to determine sufficient storage space, as well as existing business intelligence and analytical tools to support variation and volumes of data anticipated during the next few years.
Ensure that core insurance systems, including policy administration/management and claims management, have accessible data to feed data warehouses and marts.
Identify the analytical requirements, including how to build models and the need for data scientists to help synthesize data in a form that business users can effectively and easily use.
Business Impact: P&C insurers, as well as life insurers, will benefit significantly from using additional data to fuel decisions and business outcomes. This approach will help insurers identify where existing data is lacking and provide additional decision-making power, because it will allow unused data (such as unstructured data) to be used. Data can be used through modeling to help provide recommendations, next actions, risk scores or preferential information to help insurers reduce risks, identify fraud, improve customer experiences and drive revenue lifts.
Negatively, big data will require greater IT platforms and data warehouses to store and analyze the greater volumes of data that will need to be analyzed. Additional IT investments will be needed to support big data initiatives, which will be challenging for midsize to small insurers.
Benefit Rating: High
Market Penetration: 5% to 20% of target audience
Maturity: Emerging
Customer Experience Management
Analysis By: Kimberly Harris-Ferrante
Definition: Gartner defines customer experience management (CEM) as "the practice of designing and reacting to customer interactions to meet or exceed customer expectations and, thus, increase customer satisfaction, loyalty and advocacy." It is a strategy that requires process change and many technologies to accomplish.
Position and Adoption Speed Justification: Insurers have been focusing on customer-centric strategies for many years, including CRM. In 2013 and 2014, it has emerged as a top strategic priority among P&C and life insurers alike. During this time, companies are seeking new and innovative ways to improve customer interactions in order to improve acquisition, retention and loyalty. Customer experience management (CEM) is the primary way that companies will achieve this. For insurers, CEM will require major transformation, including investments in new channels, process evolution to match customer demands, heightened awareness of customers (including preferences, behaviors and attitudes), and improved channel integration. Some examples include:
Offering the right channels to meet customer interaction demands, processes delivered via the channel, and content and products that match customer needs and desires. In most cases, this will entail channel expansion as new partners and channels are launched that are more convenient and/or adopted in the target market.
Developing new business and technology approaches built outside-in to align with customer preferences.
Promoting positive brands, which will require solid multichannel strategies aimed at offering cross-channel and integrated channel interactions.
CEM is still immature in insurance, with few insurers with documented strategies or funding for CEM projects. Most still struggle with building the business case for a customer-centered project and are focusing more on digitalization, overlooking the potential of customer-centricity. While customer-centricity is top of mind among global property and casualty (P&C) and life insurers, most insurers have not begun CEM strategy development. Few companies have built formal strategies or broadened the scope for CEM, which would include channel consistency, process realignment and greater focus on customer interaction quality. Many lack the customer intelligence required to fuel CEM strategies. They also lack the necessary investments and leadership to kick off CEM projects.
User Advice:
Develop a CEM strategy, as well as ensure leadership, governance and cooperation across all channels. This will set the pace of change, and the leader will be the customer representative to identify customer preferences in channels, processes, products and interactions.
Focus on building customer intelligence, which includes insight on customer behavioral preferences, attitudes and emotions. Apply this intelligence to channel investments, content generation, UI development and personalization.
Ensure that customer-facing channels provide the most compelling interactions and experiences that match user desires. That includes providing personalized content based on life stage/lifestyle preferences and configured by the user to alter presentation.
Build a multichannel environment with seamless and intelligent connectivity between all channels to provide channel choice and cross-channel interactions.
Ensure that brand, content and processes are consistent across all channels.
Invest in a middle-office platform that includes customer communications management and business process management (BPM) solutions.
Business Impact: Success in CEM will provide business benefits, including more satisfied customers, improved loyalty and revenue lifts. As the focus moves toward satisfying customer needs, it will also drive new product development (including new products and segmented products that meet life stage and life event needs), new channel launches, improved self-service capabilities and personalization at all customer touchpoints. This approach will also, however, challenge the existing IT landscape, especially legacy systems that cannot support new channels, products or processes. Legacy modernization and new tools/technologies (such as customer information management systems, BPM solutions and mobile device support) will be required, which will be additive costs to the IT portfolio.
Benefit Rating: High
Market Penetration: Less than 1% of target audience
Maturity: Embryonic
Loyalty Marketing
Analysis By: Kimberly Harris-Ferrante
Definition: Loyalty marketing orchestrates value propositions, incentives and campaigns, and encourages improved product/program life cycle management, including companies' acquisition, maintenance, retention and cross-sell/upsell engagements. Loyalty programs tend to be operationally focused, revolving around discounts and reaching purchasing thresholds.
Position and Adoption Speed Justification: Loyalty programs have been in existence for over 100 years; however, insurers have just begun to look at how to measure and promote loyalty in the last year. While other industries have applied this concept in many forms, insurers have traditionally focused more on metrics such as relationship per household or profitability, finding it difficult to create solid metrics to know what loyalty means in the industry. This is slowly changing, especially among North American P&C and life insurers, but the adoption rate is still projected to be less than 1% of the target market, with time to plateau between five and 10 years. As focus on customer experience management and customer centricity grows – and because more insurers have a single view of customers year over year – companies are seeking ways to build customer intelligence. While most are not yet deploying programs to reward loyalty, other than discounts or referral perks, many are building strategies to drive interactions with customers that will promote loyalty – and therefore reduce churn. This is a turning point for the industry and will likely impact competitive advantage for early adopters during the next two years.
User Advice:
Review customer strategies to determine new processes, touchpoints and interactions that could promote loyalty
Use marketing applications to develop, manage and measure loyalty
Identify groups at risk for high churn, where loyalty programs may be needed, and groups with high profitability, where retention is imperative
Integrate these capabilities with campaign management (B2B and business-to-consumer [B2C]) and broader CRM initiatives that recognize customer loyalty across all customer interactions and communications
During the next two to five years, the differentiation between strategies and applied technologies will provide a competitive advantage for companies that focus on driving customer loyalty across the broader customer experience.
Business Impact: Loyalty marketing enables companies to increase customer loyalty, expand customers' relationships/portfolios, extend the relationships with profitable customers and increase customers' lifetime value, as well as reduce costs associated with churn.
Benefit Rating: Moderate
Market Penetration: Less than 1% of target audience
Maturity: Emerging
Sample Vendors: Adobe; Aimia; Comarch; Maritz; Oracle (Siebel); SAP; Tibco Loyalty Lab
Virtual Assistants in Insurance
Analysis By: Jeff Haner
Definition: Virtual Assistants in Insurance
Position and Adoption Speed Justification: Enterprises in various industries have been deploying VAs as one of many strategies to lower costs, improve responsiveness and reinforce their brand. The user interface for VAs can consist of a high-quality graphic image of a human or other character with a blank space to type a question or voice-based input on a mobile device.
VAs are attractive to insurers because they offer a flexible and cost-effective way for insurers to address questions about complex products, enabling them to offer and support more products online. VAs may be paired with gamification to provide for a more compelling user experience and drive more interactions through online channels. Actual adoption in the insurance industry, though, is limited. There have been some insurance deployments of VAs, but these represent less than 1% of the target audience.
Immature strategies for digitalization, the limitations of legacy systems and the current focus on core system modernization initiatives within many insurers (especially in mature insurance markets such as North America) are slowing widespread adoption. However, VAs offer benefits such as lower costs and improved self-service options that are very much aligned with the business priories of insurers. Gartner expects to see increasing rates of adoption over the next five to 10 years.v
User Advice: VAs will provide insurers with more options for selling through online channels, but it is a mistake to try to apply VA to all products and customer service interactions. Insurance CIOs should:
Work with their customer service leaders to identify specific products or scenarios to begin deploying VAs.
Support VAs with a strong knowledge management engine for self-service to create meaningful and productive interactions, and focus on delivering a similar experience in this and other self-service channels.
Support VAs through invisible Web chat agents once the knowledge delivery of the VAs drops below an 85% relevance-of-response rate.
Business Impact: Effective use of a VA offers several benefits for insurers: increased revenue through an expanded ability to support online sales of complex products – especially for life insurers; lower costs by driving sales and customer interactions to a less expensive, self-service channel; more flexibility for customers by providing a channel for interaction that is always available; an improved customer experience by putting humanity back into the interaction with a Web customer; and opportunities to reinforce the brand by deploying a virtual assistant that reflects the insurer's core values and character in the marketplace.
Benefit Rating: High
Market Penetration: Less than 1% of target audience
Maturity: Emerging
Sample Vendors: Anboto; Artificial Solutions; Cantoche; Creative Virtual; eGain; Icogno; Next IT; Nuance
Case Management Solutions
Analysis By: Kimberly Harris-Ferrante
Definition: Case management solutions are applications designed to support a complex process that requires a combination of human tasks and electronic workflow, such as an incoming application, a submitted claim, a complaint, or a claim that is moving to litigation. These solutions support the workflow, management collaboration, storage of images and content, decisioning, and processing of electronic files or cases. Some come with insurance workflow/process templates to help implementation.
Position and Adoption Speed Justification: P&C and life insurers continue to look more at case management solutions to augment their IT environment to support complex business processes. In the past, Gartner has been seeing growing interest in concepts such as business process management (BPM) and decision support among insurers as ways to streamline and support processes around new business, underwriting, fraud investigation and claims handling. However, while this approach will serve insurers in simple product lines with linear processes, others – in complex lines of business where these processes are complex, with multiple involved entitles, various sources of data that need to be consolidated and that are still manual – require additional technical support. Case management solutions are an option for meeting these needs for decisioning for skill-based workers, collaborative processes and complex decisions.
Case management solutions provide the foundation to manage an event throughout the process through the creation of an electronic filing folder, providing collaboration capabilities for all parties involved, audit of all decisions and steps, and management of business rules to allow for decision and process automation. These solutions do support workflow; however, they do much more because they enable collaborative viewing of pending cases, enhanced content management and business rule management. Gartner anticipates that P&C and life insurers will be attracted by the concept of case management during the next few years as a way to front-end legacy and redundant core systems to meet emerging business demands such as improved customer service, increased employee productivity and more-accurate event handling. Additionally, insurers may build new solutions on top of case management platforms in areas where insurance-specific applications are lacking.
While interest is growing quickly, the market for case management solutions, however, is confusing and fragmented, with many insurers opting for packaged solutions over those with less packaged content (including workflow and rules). Four types of vendors promote case management solutions: call-center-focused CRM vendors; BPM vendors; enterprise content management (ECM) vendors; and insurance vertical vendors that have built out case management in combination with policy, underwriting and/or claims functionalities for specific activities (such as fraud or litigation management) and product lines (such as disability or workers' compensation). The disjointed nature of the market makes it challenging for buyers to know what they are buying, to fully understand the breadth of case management, and how to apply case management within the context of insurance processes. Furthermore, to date, buying has been isolated to mature countries, especially the U.S. and the U.K., and has not yet penetrated into emerging or nonmature insurance markets.
User Advice: P&C and life insurers:
Identify processes that are complex, nonlinear and collaborative that require a skilled worker to make final outcome decisions, such as complex underwriting, claims adjusting or fraud investigation. Determine how productivity could be made better through improved content management and decisioning technology.
Evaluate gaps where current core systems, such as policy administration/management and claims management, are not supporting complex decisions and how case management can augment the existing solutions.
Assess areas where IT investments have not been made, such as in fraud investigation, to determine how case management solutions can support decision makers.
Determine what configuration and customization is required to make case management solutions fit your business process. Most vendors have thin or limited insurance prebuilt content, so this will need to be done during implementation.
Business Impact: The use of case management solutions will help P&C and life insurers to better process various events or cases that require some manual handling. When these solutions are applied to tasks such as fraud investigation, claims handling, complaint management and application processing, insurers can reduce processing costs, help improve employee performance, improve the outcomes of manual decisions and automate administrative tasks that were normally done by employees to drive productivity gains. Insurers can also use case management to promote process transparency with customers and regulators.
Benefit Rating: Moderate
Market Penetration: 5% to 20% of target audience
Maturity: Emerging
Sample Vendors: Appian; EMC; IBM; IPD; Isis Papyrus; OpenText; Pegasystems; Progress Software
Data Science
Analysis By: Kimberly Harris-Ferrante
Definition: Data science is the discipline of extracting nontrivial knowledge from (often complex and voluminous) data in order to improve decision making. It involves a variety of core steps ranging from business and data understanding, data preparation, modeling/optimization/simulation and evaluation to deployment of analytic models. It leverages approaches from disciplines such as statistics and statistical learning, signal processing and pattern recognition, operations research, machine learning, and decision science.
Position and Adoption Speed Justification: Data science is to some extent a replacement term for data mining, but it is much more: Data science is the unification of several quantitative disciplines (e.g., statistics, machine learning, operations research and computational linguistics). For the first time, computer scientists, operations researchers, statisticians and others are all willing to unite behind the banner of "data science" – which is a very profound development.
In the past year, this notion of data science has become much better understood as the quantitative set of skills and methodologies in the analytics range of capabilities. Just the fact, that UC Berkeley, Harvard University, Rensselaer Polytechnic Institute, New York University, Columbia University, Rochester University, University of Pennsylvania, Eindhoven University of Technology, University of Chicago and so many more highly acknowledged academic institutions offer data science courses and often even degrees means that this term has been generally accepted. In addition, organizations hiring data scientists and building data science teams is on the rise. Gartner expects within a few years that the term "data science" will gain widespread recognition as an umbrella for many forms of sophisticated analytics.
Insurers have just begun their journey to understanding the need and value of data science. Most have large actuarial departments that focus in pricing; however, data capabilities are limited in all other business units. Most companies lack the culture to make large-scale investments in building a culture to support data projects and building internal skill sets needed to support enterprise modeling and analytical capabilities. Gartner estimates that less than 1% of the target market has embraced data science, with most lacking the organizational support needed to hire for and build data science competencies.
User Advice: Insurers that want to increase their analytics maturity and extend their portfolio of analytics capabilities, need to develop data science skills to leverage new "big" data sources and demonstrate business value using predictive and prescriptive (and often diagnostic) capabilities. New skills should be brought into the organization outside the actuarial department. Recognize that data scientists are in very short supply – recruiting them internally may be difficult but not impossible. Seek individuals who have strong statistical skills rather than in-depth insurance background.
Business Impact: Developing a data science practice will help insurers build stronger analytical capabilities that can be applied to many business units, including marketing, underwriting, actuarial, claims and sales. Develop models to assess performance, identify opportunities, and highlight risks to help guide business decisions.
Benefit Rating: High
Market Penetration: Less than 1% of target audience
Maturity: Emerging
Internet of Things in Insurance
Analysis By: Jeff Haner
Definition: The Internet of Things is the network of physical objects that contain embedded technology to communicate and sense or interact with their internal states or the external environment.
Position and Adoption Speed Justification: The insurance industry has been both a slow and fast adopter of the Internet of Things. On the one hand, the use of telematics, a subset of the Internet of Things, is becoming more commonplace within the P&C insurance industry. For many years commercial P&C fleet insurers led in the use of telematics technology. In the past three to four years, a growing number of personal lines auto insurers have begun to adopt telematics for usage-based insurance. On the other hand, from the broader perspective of the full range of physical objects that will eventually make up the Internet of Things, such as wearable devices that provide health and activity data, RFID chips on various insured assets, networks of sensors and security systems in commercial properties, or smart home technologies, insurers have been slow to explore opportunities. Although Gartner has seen an increase in interest about the Internet of Things, like many enterprises, insurers are at the "education" stage – they are looking and still evaluating how the Internet of Things might best be utilized – especially in terms of improving the customer experience. Long term, much of the data from the Internet of Things will be relevant to both life and P&C insurers as correlations are established between data streams from daily activities and the environments that insureds live and work in, mortality rates and risk of property damage or injury.
There are several reasons for slow adoption of the broader Internet of Things concept beyond telematics, such as:
Lack of availability or access to end-user devices. Many devices (for example, smart home technologies) are technically feasible and available commercially, but not yet widely deployed or not yet accessible to insurers.
Limitations of technology currently in use within insurance companies. Many insurers are still in the throes of long-term modernization initiatives and currently lack the ability to act to effectively use the wealth of data generated by the Internet of Things. In addition to not having the necessary supporting technology, these large modernization initiatives consume resources that would be necessary to pursue opportunities with the Internet of Things.
Uncertain regulatory impacts. Insurance is a regulated industry, and some lines of business (such as workers' compensation) are heavily regulated. While it may be technically feasible to gather and use new data from the Internet of Things, how this data can be used may not be clear under current regulation.
Uncertain underwriting impacts. Insurers have not yet developed the models to incorporate Internet of Things data in their underwriting.
Policyholder data privacy concerns. While there are a growing number of policyholders who have indicated a willingness to share personal information, especially if it is linked to a monetary incentive such as a discount on insurance premiums, a significant percentage of customers – over 40% in some recent surveys – are unwilling to share their personal data with insurers.
Although the use of telematics within P&C insurance is relatively mature and beginning to slide into the Trough of Disillusionment due to the slow adoption of broader opportunities with the Internet of Things, as a whole it remains at an embryonic stage within the insurance industry.
User Advice: Insurance CIOs should pursue these activities to increase their capabilities with the Internet of Things:
Evaluate the marketplace for Internet of Things technologies and their potential impact on your ongoing competitiveness.
Monitor adjacent industries to determine where device data opportunities exist and how your company can pilot available technologies.
Consider opportunities offered by new sources of data on factors such as lifestyle, driving patterns and building status that are relevant to insurance risk. Use this data to create a road map for delivering underwriting data to support innovative product offerings.
Ensure that EA teams are ready to incorporate Internet of Things opportunities and entities at all levels.
Increase your knowledge and capabilities with big data. The Internet of Things will produce two challenges with information: volume and velocity. Knowing how to handle large volumes and/or real-time data cost-effectively is a requirement for the Internet of Things.
Business Impact: Most applications for the Internet of Things are rooted in four usage scenarios: Manage, Charge, Operate and Extend.
Within the insurance industry, the primary usage scenario initially will be Charge, in which connected things can be monetized. This may be based on a simple pay-per-use basis initially, such as automobile insurance premiums based on mileage driven, but over time, this will increasingly be based on how insured assets are used by policyholders. For example, insured drivers will be charged premiums based not only on how far they drive, but on how safely they drive and the degree of risk associated with when and where they drive their vehicles. Life insurers will begin assessing health-related data and incorporating it into underwriting.
In addition to the Charge scenario, longer term Internet of Things data from a wide range of sensors, combined with advanced analytics, will give insurers much greater insight into risks their policyholders face, and present them with opportunities to act to prevent losses before they occur. This ability to engage in active loss prevention has the potential to radically alter the relationship between insurers and insured by increasing the frequency of interaction and the value the policyholder receives from the insurer. Insurers will also have more detailed information, in many cases in real time, on losses that actually do occur. This new information will enable insurers to streamline processes such as claims management and equip them to better detect and manage fraud.
Benefit Rating: Transformational
Market Penetration: Less than 1% of target audience
Maturity: Embryonic
Sample Vendors: Atos; Axeda; Baseline Telematics; Bosch; Cisco; DriveFactor; Driveway Software; e-Builder; Eurotech; Evogi; GE; Honeywell; IBM; Kickstarter; LogMeIn; Microsoft; Octo; QNX; Quindell; Schneider Electric; Siemens; Verizon Telematics; Wunelli
Social Analytics
Analysis By: Kimberly Harris-Ferrante
Definition: Social analytics is the process of collecting, measuring, analyzing and interpreting the results of interactions and associations among people, topics and ideas. These interactions can occur in virtual social environments used in the workplace, in internally or externally facing communities, or on the social Web. Social analytics is an umbrella term that includes a number of specialized analysis techniques, such as social filtering, social network analysis, social channel analysis, sentiment analysis and social media analytics.
Position and Adoption Speed Justification: Insurers have had mixed feelings about the use of social media platforms to date, but have been more aggressive at "listening" to social media traffic than pushing content out on the platform (other than basic marketing messages). Increasingly, insurers want to know more about customers, consumers and the market overall. Since they do not have much direct interaction with customers through the typical insurance sales/service model, mining social media provides a great means to fill this gap. Reviewing what is said about insurance overall, their companies/products, and consumer statements can provide intelligence for insurers that is lacking today.
To support this vision, insurers are turning to social analytics. Through the use of social analytics and technologies, insurers can gather this intelligence to help significantly improve business processes. Gartner projects that adoption today is 5% to 20% of the target audience, and expected to grow year-over-year. However, it is important to note that many uses are basic – focusing on simply reporting on feedback on the company versus in-depth analytics on relationships, customer sentiment, or complex business processes, such as fraud or claims.
User Advice: Insurers should ensure that their initiatives are positioned to take advantage of social analytics to monitor, discover and predict. Knowing what questions to ask, and then having a plan about what to do with the information uncovered, are critical components of getting value from social analytics. Some enterprises will be content to simply monitor the conversations and interactions going on around them. Enterprises with social software platforms that provide social analysis and reporting can use this information to assess community engagement. They can also easily monitor what is being said about their companies, products and brands using simple search tools or more-sophisticated sentiment analysis applications.
The results of social analytics (for example, discovered patterns and connections) can be made available – often in real time – to the participants of the environment from which the data was collected to help them navigate, filter and find relevant information or people. Other enterprises will mine the social analytics data, actively looking to discover new insights using a wide range of business intelligence applications. At this time, the use of social analytics information for predictive purposes is a largely untapped source of value. However, marketing and product development teams express great interest in this capability.
In many organizations, social analytics applied to external activity (for example, sentiment analysis across the Web) will be sourced by marketing professionals and others (such as the legal department, product development and customer support). In those cases, the IT department needs to play a leadership role in orchestrating a coordinated set of activities across departments to, for example, minimize duplication of effort, ensure coordination between efforts and standardize taxonomies.
Business Impact: Social analytics serve as a means for insurers to identify new leads, understand trends among consumers and customers, get input for product development, identify input that would trigger fraud investigation, and understand brand positioning. Knowledge to expand customer intelligence, including sentiment and life events, can be used to augment customer profiles, for example. Social information can be mined for events that would signal action is needed (e.g., a claim due to a wreck) or sentiment to identify dissatisfaction with an existing insurance provider. Competitive intelligence can be obtained from social analytics, as well as input for product development on what insurance needs are unmet and current-day brand view.
Benefit Rating: High
Market Penetration: 5% to 20% of target audience
Maturity: Emerging
Sample Vendors: Attensity; IBM; News Patterns; salesforce.com; SAS; Trampoline Systems; Twelvefold Media; Visible
Crowdsourcing
Analysis By: Juergen Weiss
Definition: Crowdsourcing is the process of sourcing a task or challenge to a broad, distributed set of contributors using the Web and social collaboration techniques. Crowdsourcing applications typically include mechanisms to attract desired participants, stimulate relevant contributions, and select winning ideas or solutions.
Position and Adoption Speed Justification: Crowdsourcing, in its broadest sense, can be viewed as synonymous with collective intelligence – that is, Web-mediated mass collaboration enabled by resources such as Wikipedia and open-source platforms. However, the term is more often used to refer to a focused effort by a company or other entity to accomplish a specific task, or identify opportunities, by drawing on contributors outside the immediate control of its management or its contractual structures. Some examples from the insurance industry illustrate this:
Some life and P&C insurers have begun to use crowdsourcing successfully for narrowly defined tasks, open-ended challenges or simply calls for ideas. They are looking for input from customers for new products, services or even technologies.
One U.K. insurer applied crowdsourcing to co-designing a new mobile application with its customers.
A German insurer is maintaining a public co-innovation lab where clients can submit new product ideas or improvements.
A U.S. insurer is using crowdsourcing to obtain immediate feedback on its products.
Crowdsourcing can also be used internally for continuous improvement, and multiple insurers are already embedding it in their innovation processes as a means of collecting ideas from employees. Other use cases for crowdsourcing are active loss prevention (where advice from multiple users can be aggregated) or simple activities (such as completion of unreadable contents during optical character recognition-based document management processes).
Digitalization and customer-centricity are becoming important objectives for business and IT leaders in life and P&C insurance. For this reason, Gartner believes crowdsourcing will increasingly be used to obtain more frequent feedback on the design or modification of products and services. Crowdsourcing is also an important element of innovation strategies where customers, or "the collective," create and rank ideas, or design marketing campaigns. The tools to establish a crowdsourcing environment – particularly those involving recognition incentives or micropayments – are becoming widely available. However, there is still more to be learned and more experience to be gained about where the practice is most effective compared with other approaches, such as pilot programs. We expect crowdsourcing to be more widely used by insurers for different tasks and to move gradually along the Hype Cycle, but not to reach the plateau during the next five to 10 years.
User Advice: Successful crowdsourcing requires that insurers:
Specify the task or challenge (including the time frame for responses, guidelines and rules) and notify potential contributors
Define and manage incentives, including payments
Assess intellectual property (IP) implications
Ensure some level of quality control regarding access, contributions (particularly if prizes or payments are involved) and voting
Business and IT leaders in insurance should look for creative ways to use crowdsourcing that extend beyond idea generation. One opportunity may be tasks that can be broken down into smaller chunks and attacked in parallel, such as classification of images in claims management or completion of paper-based applications. Crowdsourcing should be used for innovation in areas that can be focused and well-defined as a challenge, such as specific products and services. Business and IT leaders in insurance should look, in particular, for opportunities to crowdsource tasks to internal or external volunteers who are prepared to contribute and extend the company's ability to innovate or resolve tasks in a resource-constrained environment. Also, when employing crowdsourcing with nonemployees, business and IT leaders in insurance need to be prepared to grapple with intellectual property (IP) issues. In some cases, they will need to reveal their own IP (for example, plans for future products or services) to outsiders; in other cases, they will need to deal with the terms of IP ownership for any relevant contributions from external participants.
Business Impact: Crowdsourcing will have business impact in multiple areas of the insurance environment by:
Stimulating innovation through capturing creative ideas from outside the enterprise
Dramatically increasing the human resources available to be applied to a task or challenge
Extending insurers' access to key capabilities and changing their associated cost structures by crowdsourcing core business competencies
Increasing the frequency of interactions with customers and contributing to higher levels of customer satisfaction
Benefit Rating: High
Market Penetration: Less than 1% of target audience
Maturity: Emerging
Sample Vendors: Amazon; CloudCrowd; Crowdcast; CrowdFlower; IdeaScale; InnoCentive; Quora; topcoder
Aerial and Digital Imagery
Analysis By: Kimberly Harris-Ferrante
Definition: Aerial and digital imagery is the use of digital images, including those in 3D, by home or property insurers to view properties, as well as the software that analyzes the images to estimate size, proximity to risks and location. It is usually offered via an Internet service or data as a service (DaaS) in which users, such as personal or commercial property insurers, pay monthly subscription fees or pay by use to get information on the risks they are underwriting or claims they are investigating.
Position and Adoption Speed Justification: Property and casualty (P&C) insurers in personal and commercial lines increasingly want additional data tools and services to aid in decisioning by underwriters for risk evaluation, and by claims adjusters for investigation. Aerial and digital imagery and software help with these objectives.
Gartner continues to see growing demand and adoption among Tier 1 and Tier 2 P&C insurers for aerial and digital imagery to support location intelligence for property risk assessment and claims processing, with adoption estimated to be between 5% and 20% of the target market today. The use of these tools and data is expanding beyond underwriting to various business processes, including greater use in claims, marketing, distribution and pricing. Furthermore, as data providers offer data in cloud-based models and payment based on consumption, it opens up the use of location intelligence to new business departments and smaller organizations that could not justify the investment in aerial and digital imagery before.
The software and services to measure images and apply to underwriting business processes are still evolving. Today, there is a range of these providers in the U.S. (including Microsoft and Google). However, image and location data continues to be limited in Canada, and there are fewer choices in other regions, such as Europe, Latin America and Asia/Pacific. Adoption is directly related to the data available in each country, which requires viable satellite services and pictures of properties that are updated on an annual basis.
As a result, the time to plateau is expected to be between two to five years. In the long term, new technologies, such as drones, may replace the need for some imagery as companies assess property risk on an ad hoc basis, using drones to fly over a location to take digital pictures and video. Today, a few insurers are in the test labs assessing how these devices could help reduce the need for large-scale imagery services. However, the use of these technologies is not permitted in all regions.
User Advice: U.S. P&C insurers:
Incorporate aerial and digital imagery into your property underwriting and claims-handling processes. Apply this data to reduce the need to send underwriters for property inspection and to assess risk during the underwriting process. Integrate imagery into the underwriting workstation to enable seamless processing and improved auditability.
Look for providers offering aerial and digital imagery via DaaS on a pay-per-use basis.
Insurers in other regions:
Assess whether the data options available from providers today can be incorporated into your underwriting and claims processes.
When services are not available or are limited, investigate the use of drones or other emerging technologies to assist with on-site property inspections.
Business Impact: Aerial and digital imagery can significantly help P&C insurers reduce underwriting risks and help with claims adjusting. Using real pictures can help insurers accurately assess the risks of physical properties, without having to deploy individuals to the actual location. This provides cost savings, speed of information to use in decisioning, and improved accuracy for underwriting and claims.
Benefit Rating: Moderate
Market Penetration: 5% to 20% of target audience
Maturity: Adolescent
Sample Vendors: EagleView Technologies; Innovation Group; ISO; Pictometry; Xactware Solutions
Agent Portal Solutions
Analysis By: Kimberly Harris-Ferrante
Definition: Agent portal solutions are packaged offerings that support workflow and transaction capabilities including quote, binding and service, as well as upload and download capabilities and advanced features such as collaboration and case management to support distributor needs in complex product lines, such as specialty and commercial property and casualty (P&C) insurance. Some of these tools are also positioned as Web-based sales platforms to be used by agents, as well as other distribution partners, all delivered through Web-based technology.
Position and Adoption Speed Justification: P&C insurers have been seeking ways to streamline transactions and communications with their distribution channels for years. Industry standards, like single-entry, multiple-carrier interface (SEMCI), have not worked, and most insurers have turned to portals as the means to support agent-carrier connectivity.
In the past, insurers had to build their agent portals using horizontal portal products. However, during the past two to three years, an emerging technology market has emerged that offers portals built for P&C insurance needs and contains APIs to common packaged solutions and workflows specific to agent transactions. Gartner has observed that companies want packaged options and solutions that have advanced capabilities, such as collaboration and real-time transaction processing, to support distributor requirements that are lacking in their core policy, billing and claims systems. They also want the ability to create faster and more user-friendly Web-based sales for their distribution partners. In commercial and specialty lines, many companies need advanced transactional features that allow real-time endorsements, policy issuance, integration of agent systems to underwriters and collaboration. Most insurers did not have this capability due to their continued use of legacy systems and are finding that even modern policy administration systems that offer portals allow them to better meet business demands. More than just front-ending core systems, agent portals need to extend functionality and fill gaps for rating, quoting and binding for real-time transactions and collaboration between underwriters and agents. For personal lines and small business, insurers also need new technology to support Web-based rating, quotation and policy issuance across their distribution networks. Even while policy vendors add new portal capabilities to their core systems, they will lack the complete range of sales functions needed for sales support, such as collaboration.
In-house-built portals (as done by many large insurers) have a high cost of maintenance, offer limited functionality, and are being challenged as many attempt to mobile-enable them to support new agent demands. As a result, the need for advanced agent portals has emerged, and vendors in this market continue to mature by offering new capabilities (for example, improved quoting and policy issuance), supporting cloud-based delivery and enabling the same agent-facing portal to support other user groups (such as other distribution partners, internal employees or customers). Gartner expects significant improvements in this solution type during the next few years, especially in data integration, mobility and real-time transaction processing. Solution enhancements will drive greater adoption among P&C insurers, especially commercial and specialty companies that need improved insurer-to-agent transaction capabilities. As a result, we project that agent portal solutions will take two to five years to reach the Plateau of Productivity.
User Advice: P&C insurers, especially those in commercial and specialty lines of business that need to improve agent transaction capabilities, should look at agent portal solutions as a jump-start over building portals from scratch or using simple portals that are delivered from policy management/administration vendors.
Insurers should look for tools that have complementary technology platforms to allow for easy integration to policy and core systems and that can support real-time quotation and policy issuance.
Evaluate agent portal solutions based on what they deliver today, as well as their ability to support industry XML messaging standards (for example, ACORD), collaboration, analytics, prebuilt workflows, integration with common agency management systems (such as Applied Systems and Vertafore) and case management for decision support.
Look for agent portal solutions that are mobile-enabled and can run through common tablet devices such as the iPad. As mobile adoption among distributors rises, this is imperative.
Assess the ability to leverage the agent portal with other user groups to support multichannel projects and reduce the IT complexity associated with portals.
Business Impact: Agent portal solutions will significantly help P&C insurers improve relations with their distributors due to faster transaction processing and improved transactional capabilities (including insight into the process through visibility in workflow and collaboration). This will also mean faster binding of business, leading to faster recognition of closed sales and immediacy of service interactions that are conducted through agent/broker offices.
Benefit Rating: Moderate
Market Penetration: 5% to 20% of target audience
Maturity: Adolescent
Sample Vendors: Agencyport Solutions; Bolt; CSC; FirstBest Systems; iter8; NxTech; Oceanwide; Temenos Group
Mashups
Analysis By: Kimberly Harris-Ferrante
Definition: Mashup software or services enable the integration and synthesis of information from a variety of sources in a single user interface.
Position and Adoption Speed Justification: The expectations and hype surrounding social media and social technologies, as well as their potential impact on organizational performance, are emerging within the P&C and life insurance industry. Most insurers have yet to embark on projects like mashups or to explore the opportunities that these technologies offer. The use of social media itself has been spotty, with adoption higher in the P&C insurance industry than in life insurance. Companies are using it primarily to push out marketing messages or to listen to what people are saying about their organizations. Most do not include collaboration or interactive capabilities. They see it as less about creating communities and more about developing new communication channels where they can learn about and interact with customers.
Insurers are just building out their data and information strategy, which includes identifying a third party to provide customer support and internal decision making. The technology capability required to integrate social media into a single UI is limited, with little investment made to date. Therefore, adoption rates are 5% to 20% of the target audience, with timing through the Hype Cycle projected to be two to five years. Focus will intensify as insurers improve their customer-facing e-services sites and look to create improved UIs for underwriters and claims adjusters, for example.
User Advice:
Identify critical internal processes where information such as underwriting or claims adjusting needs to be aggregated.
Assess the current solution environment to determine data requirements and the ways that integration can help with decision accuracy and timeliness.
Evaluate the ability of the core system to accept Web services and services-oriented calls from adjacent technologies, including mashups. Build the business case with line-of-business management to include mashups for risk assessment and decision support.
Business Impact: A low level of IT skills is required to use mashups to bring content and functionality together, thus improving flexibility and the time from idea to service. Mashups can help improve the capability of internal staff by accurately measuring risk, pricing and customer service.
Benefit Rating: Moderate
Market Penetration: 5% to 20% of target audience
Maturity: Early mainstream
Sample Vendors: Adobe; Google; IBM; Microsoft; Oracle; Yahoo; YouTube
Wearable User Interfaces
Analysis By: Juergen Weiss; Adib Carl Ghubril
Definition: Wearable user interfaces are electronic systems located on the body that help users mediate their environment (for example, temperature) or measure certain body functions (for example, blood pressure or heartbeat), without distracting them from their primary tasks or restricting their attention (for example, by making them look down or reach into their pockets while walking). Ideally, wearable platforms are unobtrusive, always on, connected, and providing timely and context-sensitive information.
Position and Adoption Speed Justification: Wearable user interfaces have become very popular with consumers, especially for tracking personal health and fitness conditions. Demand for wearable biomonitoring devices is increasing in the health and fitness markets. Discussions of Google Glass, in particular, have dominated commentary and discussions in virtually all media and forums. Manufacturers incorporating fashion concepts of fit, form and texture will drive faster adoption of wearable technology.
Despite this intense consumer interest, very few life or P&C insurers have seized the business opportunities presented by wearable user interfaces. This is because they either lack the IT skills and supporting technology capabilities to integrate these technologies into their value chain, or they have not been able to develop a convincing product offering or value proposition. One of the few exceptions is a large Japanese insurer that has developed a specific life insurance product that rewards health-conscious behavior. Two other inhibitors of wider adoption of wearable user interfaces in the consumer space are data privacy and ownership issues, and the need for insurers to develop a convincing partner strategy with technology providers.
Wearable user interfaces are an emerging technology on the Hype Cycle, and Gartner expects more insurers to form technology partnerships and develop joint product and service offerings in this area during the next five to 10 years. We also believe that wearable user interfaces will complement free and captive insurance agents' current field activities.
User Advice: Business and IT managers of insurance companies should evaluate their value chains to identify use cases where wearable user interfaces could be piloted and provide business benefits. One of the most common use cases will be to use wearable user interfaces for better assessing underwriting risks or mitigating fraudulent activities. Use cases will generally be directed either at customers or at internal employees. Insurers need to develop a holistic approach, similar to their approach to mobile technologies, which includes technologies, content strategies, regulatory aspects and product considerations. This holistic approach should include an analysis of current demand and supply conditions, which will help business and IT managers assess possible partner strategies and competitive threats. Another consideration is that many providers of wearable user interfaces collect and store user data in a cloud-based environment. Insurers will need to evaluate whether they can access and use this data as part of their technology strategy.
Business Impact: Life insurers have begun to use wearable user interfaces as incentives for customers to purchase policies. Some companies have also developed specific life insurance products that make use of the measured data from wearable devices (for example, to reward healthy living by providing premium discounts or offering higher premium refunds). Wearable user interfaces can also be combined with other technology elements, such as gamification and social media, and will allow life insurers to establish virtual communities where customers can, for example, motivate one another and reinforce healthy behaviors.
Another future use case for both life and P&C insurers will be field-related business processes, such as underwriting, customer authentication or claims adjustment. The adoption of wearable user interfaces such as Google Glass may increase employee or agent productivity. Wearable cameras, for instance, let adjusters keep their hands free to take notes and fill in forms while taking photos or video on site. In the future, augmented reality checklists on smartglasses will remind insurance employees of processes to follow. They will also be able to use their voices through a microphone on the smartglasses to provide data to a virtual personal assistant, who will complete forms for them.
Insurers might also consider leveraging data from third parties that are using wearable user interfaces, such as body cameras used by police officers responding to an accident. Specific product types that require low-cost technology support, such as microinsurance, will also benefit from wearable user interfaces.
Benefit Rating: Moderate
Market Penetration: Less than 1% of target audience
Maturity: Emerging
Sample Vendors: Eleksen; Eurotech; Fitbit; General Dynamics; Google; Honeywell; Motorola; Vuzix
Digitalization
Analysis By: Kimberly Harris-Ferrante
Definition: "Digitalization" means shifting the fundamental business model to support electronic channels, content and transactions, while continuing to support traditional practices that cannot be ignored. These include the use of printed documents, face-to-face interactions and call center interactions.
Position and Adoption Speed Justification: Digitalization has emerged to be the biggest focus for transformation among property and casualty (P&C) and life insurers alike. During the past two years, Gartner has seen a surge of insurers around the globe build digital strategies that include building digital channels, channel integration, data management capabilities, electronic communications and straight-through processing. Many companies, especially Tier 1 and multinationals in Asia/Pacific, North America and Europe, have already embarked on their digital journey. Digitalization is a high-level strategy that requires large-scale business transformation and governance, and that is enabled by a range of technologies. Ultimately, this makes it more expensive and difficult to govern. However, it provides greater value to the enterprise once accomplished.
Approaches differ from company to company, and some companies fail to tackle all processes and elements required to fulfill digitalization, including change management, data management, electronic communications, standardization, new channel development and multichannel integration. It will be many years before this becomes widespread throughout the industry, and it will require multiple years for companies to complete this transformation. As a result, it will take five to 10 years before digitalization reaches the Plateau of Productivity.
User Advice: Build digitalization strategies targeted at improving channel interactions and reducing content delivery costs, and leverage new data for business value (including customer/broker satisfaction and regulatory compliance). Assess customer interaction needs and how they are changing over time, including greater mobile device use and need for electronic communications, and map your IT investments to close these gaps.
Take a holistic and enterprise approach to digitalization, involving various business units, such as marketing, customer service, sales, compliance, information management and IT.
Ensure that digital strategies encompass all elements. Fill gaps within existing business strategies to meet these objectives, and look for opportunities for context-aware computing using GPS and real-time data.
Invest in new technologies required to establish the foundation for digitalization, including customer communication solutions, analytics, modern core systems, customer analytics, business intelligence (BI) and business process management (BPM) suites.
Ensure that challenges are met, including legacy inadequacies, cybersecurity, having a single customer file and driving change throughout the organization to facilitate digitalization. Create the new security and processing requirements needed to avoid risks and failures due to new electronic communications and transaction models.
Business Impact: Digitalization will have an enormous impact on insurers and their value chains, because it will transform their transaction processing, customer interactions, outbound communications, information capabilities and product strategies. Once accomplished, it will enable straight-through processing for faster cycle times for core business processes, reduce transaction costs, reduce outbound communication costs, improve customer satisfaction through better interactions and help with regulatory compliance. Having electronic content will make version control and access better, reducing regulatory risks associated with noncompliant documents. However, cybersecurity risks are greater with a digital business model, and will require additional investments to minimize these risks.
Benefit Rating: Transformational
Market Penetration: 5% to 20% of target audience
Maturity: Emerging
Analytical In-Memory DBMS
Analysis By: Kimberly Harris-Ferrante
Definition: An in-memory database management system (IMDBMS) is a DBMS that stores the entire database structure in memory and accesses it without the use of input/output instructions. Analytical IMDBMSs focus on addressing analytical needs by leveraging the high speed of in-memory capabilities. Technologies include in-memory column-store DBMSs and in-memory massively parallel processing row-store-based technologies. Analytical IMDBMSs should not be confused with in-memory analytics that offer an in-memory cache for business intelligence tools.
Position and Adoption Speed Justification: The need for fast, complex data processing power is becoming a competitive advantage in the insurance industry. Actuarial, marketing and claims departments all have the need to sift through growing amounts of data instantaneously in order to make real-time – and quicker – business decisions. Traditional database capabilities limit their ability to do this, making it necessary for companies to look elsewhere for transaction processing and decision support.
Analytical master data management (MDM) solutions are not a new concept, since much of the technology included (for example, data cleansing, standardization and mapping, as well as workflow support for reference data management, in some cases) has been used in various data warehousing and business intelligence (BI) implementations for many years. However, until now, much of the focus of operational MDM has been on creating single views of master entities in operational systems, rather than consistency of analysis and aggregation in downstream analytical systems. Furthermore, most insurers have failed to adopt this technology. Adoption is not expected to accelerate in 2014 except in innovative insurers and in specific process areas such as fraud or actuarial pricing. Mainstream adoption is not projected for five to 10 years.
Many of the analytical MDM functions described by vendors that specialize in it are already implemented quite robustly in data quality tools that are routinely applied in the context of a data warehouse, so various BI and performance management infrastructure deployments may have elements of analytical MDM. However, most organizations have a proliferation of BI tools and analytic applications, and these are often independent data silos that cannot be easily managed in a federated approach to master data. Consequently, analysis performed across these silos uses different aggregation mechanisms and hierarchies, which leads to inconsistency of data at higher levels of reporting, and may also have nonconforming dimensions. This is evident largely in the separation of consolidated financial reporting from more operationally focused reporting and analysis in most organizations.
Enterprises that have adopted analytical MDM to manage dimensions and hierarchies supporting the various analytical needs across downstream BI, OLAP cubes and performance management applications soon begin to realize that the true value proposition of MDM – over and above what can be achieved via data warehousing technologies – can be attained only when mastering the data in the operational systems environment is the program's target. These organizations then start to write back these dimensional hierarchies to transactional systems as a transitional step to operational MDM. This does not mean that there is no benefit in implementing analytical MDM; however, organizations that believe they will never need, or be able to implement, operational MDM may well be able to meet their needs outside of operational MDM software solutions.
User Advice: Work with the business to discover analytical scenarios where speed of analysis could uncover new business opportunities and deliver high business value.
Look for transaction systems (e.g., actuarial systems), which need high volume, fast analysis capabilities.
Determine gaps between existing insurance transactional systems and the vendor's focus on new data processing capabilities on their R&D road map.
Monitor the maturity of technology vendors for high availability and disaster recovery to ensure that your organization's SLAs are met, and revisit the situation and adoption in two years as market acceptance grows.
Monitor the availability and maturity of technologies offering to combine analytical and transactional scenarios. While this is where the greatest business value is, it is probably still five years out.
Track independent software vendor and system integrator investments in the technology.
Organizations evaluating analytical IMDBMSs should revisit data governance, as well as data warehouse (DW) practices and design, to take advantage of increased performance without losing the quality or consistency of data.
Business Impact: Analytical in-memory DBMS has great promise for insurers for improved pricing, risk, marketing, underwriting, and claims analysis. Examples include next best action, actuarial analysis, and real-time catasrophe exposure analysis. The speed of IMDBMS for analytics has the potential to simplify the DW model and reduce maintenance by removing the need for aggregates, summaries and cubes. This will result in lower administration costs and offer greater agility in meeting analytical requirements. Some technologies, such as columnar IMDBMSs, have the opportunity to grow beyond analytical use cases into transactional processing and, as a result, enable new applications that were previously difficult to implement due to latency issues between the transactional and analytical environments.
Benefit Rating: High
Market Penetration: 1% to 5% of target audience
Maturity: Emerging
Sample Vendors: Exasol; Kognitio; Oracle; ParStream; Quartet FS; SAP
Digital Marketing
Analysis By: Kimberly Harris-Ferrante
Definition: Digital marketing, which continues to be integrated with multichannel campaign management, includes addressable branding/advertising, contextual marketing, social marketing and transactional marketing. Digital marketing extends the marketing process through channels such as the Web, video, mobile and social applications, point of sale (POS) terminals, digital signage and kiosks.
Position and Adoption Speed Justification: Digital marketing has been foreign to the insurance industry in the past, other than in limited instance and organization types (e.g., direct insurers). For those, they have used digital media to push outbound messages – usually around branding and product advertising – to the mass market. During the last year, however, Gartner has seen intensified focus on digital marketing among direct and intermediary-based insurers alike. Insurers, like many other industries, are beginning their digital journey and looking to better embrace digital mediums to market and distribute their products. Direct marketing, including leveraging the various online channels (including social sites), allows companies to reach a greater range of customers, present affinity or niche messages, interact with customers in new ways and present product content in real-time in front of online users (including integrated with their e-service sites).
While direct marketing has great promise for the industry, we project that adoption today is between 1% to 5% of the target audience, with early adopters in those countries with greater online insurance adoption (U.K., U.S., France and Germany). Growth is projected to rise during the next two years as digitalization becomes more widespread, but time to plateau to be two to five years overall.
User Advice: Marketers must focus on areas such as open customer access and a two-way participation approach to campaigns, which continue to develop from evolving digital marketing trends. Successful marketers will create marketing activities that add value to customers' decision processes and positive customer experiences. Assess social and Web strategies and how marketing can be embedded into pre-existing capabilities. Review digitalization strategies to determine the role of direct marketing in fulfilling brand and corporate initiatives.
Business Impact: Digital channels are a significant part of a customer's buying process; they enable interactive communication flow between companies and customers. Digital marketing is used to execute campaigns and to facilitate customer interactions online, as well as to capture customer data; this improves activities like overall campaign management interactions, online and offline.
Benefit Rating: Moderate
Market Penetration: 1% to 5% of target audience
Maturity: Emerging
Sample Vendors: Adobe; Google; IBM-Unica; Marketo; Neolane; Oracle; Sitecore
At the Peak
Customer Communications Management Solutions
Analysis By: Kimberly Harris-Ferrante
Definition: Customer communications management (CCM) solutions are tools to support the creation, delivery, storage and retrieval of outbound communications, including those for policies, marketing, new product introductions, renewal notifications, claims correspondence and documentation, as well as bill and payment notifications. These interactions can happen through a widespread range of media and output, including print, email, SMS, Web pages and social media.
Position and Adoption Speed Justification: In the past, prioritization has been on more pressing projects (such as core system replacement), reliance on embedded content or document management solutions that are already installed or included in core systems, or continued focus on paper-based transactions and management. However, with the focus on reducing operational expenses (including paper reduction), digitalization, improved electronic communications and customer centricity, focus among CCM has been growing during the past two years in mature markets, such as continental Europe and North America. During this time, several trends have converged to accelerate the adoption rate and position of CCM on the life and P&C insurance Hype Cycles:
Increased consumer acceptance of electronic communications
Growing interest among insurers in supporting electronic communications
Maturing of the solutions focused on meeting CCM needs in insurance
Further awareness of how CCM supports digitalization and customer experience management projects will further accelerate its use in the industry, driving CCM to reach the plateau within two to five years, with faster adoption in mature markets, such as the U.S., U.K. and Australia.
Additionally, many of the first projects that we observe are targeted at correspondence. The focus on creating electronic correspondence that can be sent out through a variety of customer-facing channels is top of mind among many insurers today. These include policy contracts, claims information, bills and marketing offers. Further projects are expected to focus on interactive marketing, website interactivity and outbound claims communications (including catastrophe communications), as well as pushing CCM to the sales channel to enable agents and brokers to create real-time electronic communications with their customers.
User Advice: Property and casualty (P&C) and life insurers:
Build CCM strategies immediately focused on leveraging the technology to support marketing, sales, claims and customer service. CIOs should work with business leaders to identify key processes where electronic communications are needed for correspondence, contract issuance and other interactions. Determine the acceptance of your customer base in using electronic communications for these tasks, and initiate projects where CCM solutions can be deployed to assist in customer interactions, reduce communications costs (including reduced costs of paper processing, mailing and imaging) and improve regulatory compliance.
Assess how CCM will help meet emerging customer interaction demands and complement the existing tools and technologies used for enterprise content management (ECM) and document management.
Determine how CCM can augment and replace existing print systems.
Look for tools to help with message development (including leveraging personal information about customers to provide unique, tailored messages) and records management. CIOs should work with chief marketing officers (CMOs) and marketing leaders to understand the need for outbound real-time campaign offers and how CCM can help deliver these via any channel to customers.
Assess the strategy of your core system vendor in integrating with CCM solutions.
Business Impact: CCM solutions offer great benefits to P&C and life insurers. There are six main reasons why insurers are seeking ways to improve CCM:
To ensure brand and message consistency and accuracy (including leveraging customer data to better personalize messages to the customer's unique needs)
To fulfill cross-channel strategies aimed at leveraging common technology and processes across all customer touchpoints and channels
To ensure satisfaction among existing customers, and to help promote upsell and cross-sell rates
To gain efficiencies and cost reductions in the creation, delivery and mailing of content and paper to customers via all media
To support "go green" initiatives to reduce or eliminate bulk mailing and paper costs
To ensure that outbound communications meet regulatory requirements and, ultimately, to avoid fines as a result of noncompliant documents, forms and correspondence
Overall, CCM solutions will help insurers with customer satisfaction improvements, reduced communications costs and reduced risks.
Benefit Rating: High
Market Penetration: 5% to 20% of target audience
Maturity: Adolescent
Sample Vendors: Cincom Systems; EMC (Documentum); GMC Software Technology; HP Exstream; Oracle; Pitney Bowes; Thunderhead.com; Xerox; Xpertdoc
Digitalized Business Processes
Analysis By: Janelle B. Hill; Michele Cantara
Definition: Digitalized business processes, formerly known as digitized processes, are a type of intelligent business operations (aka intelligent processes) that manage the interaction of people, business and things in digital marketing or digital business. Digitalized processes are designed for change so that these interactions (i.e., the work) can be adapted in real time to capitalize on business moments.
Position and Adoption Speed Justification: Hype about digitalized business processes is rampant as organizations pursue both digital marketing and digital business strategies to reinvent the way they and their value chain partners work together. Digitalized business processes add value beyond today's automated processes. Organizations have been automating human-performed activities for years, mostly to standardize operational processes (such as order to cash) and drive efficiency. Automated processes allow the business, in pursuit of efficiency, to exercise great control over work activities and the customer experience.
Digitalization is the process of moving to a digital business. Digital business creates new business designs in a landscape of people, business and things. Digitalized business processes involve digitizing any and all physical and digital assets in ways that create new value by blurring the digital and physical worlds. This could include real-time context, rules, events, man/machine collaborations, decisions, social interactions, metadata and more. The goal of digitalized business processes is to scale to successfully exploit digital business moments by improving decision making and compressing the time it takes to go from insight to action.
As a result, a digitalized business process can be highly industrialized, dynamic, unstructured and collaborative – at the same time. Notable examples of businesses that have exploited digitalized business processes include LendingTree and Kiva. LendingTree and Kiva change the relationship of lenders to buyers by digitizing the lending process and placing the emphasis on customers' active participation in the process. As a result, these organizations have transformed their businesses through crowdsourcing by getting customers to do some of the work that used to be carried out as business operations within the enterprise.
User Advice:
Put customer-directed, digitalized business processes at the forefront of your digital business strategy.
Shake up your view of what constitutes a business process and preconceptions about how quickly process change – both at the instance level and at the global design level – needs to happen. Think of a business process as a set of interactions and information flows that people, businesses or things can alter in real time. In this context, the primary objective of digitalization is to optimize the digital business moment in near real time by delivering new value and realizing new business designs. In contrast, efficiency of the enterprise's business operations is at best a secondary objective that can be addressed at a slower pace of change.
Identify whether leveraging the Nexus of Forces in digitalized business processes represents a business transformation opportunity for you, a threat from competitors or an inevitable evolution of your customer base that you must address soon. Additionally, identify the architectural impact of nexus technologies on the solutions and the people that support your business processes and those of your value chain partners.
Determine if your intent is to increase the performance of your organization as an e-business, as a digital marketing business or as a digital business.
Establish a capability to handle "big change" because the transition to digitalized business involves high levels of the four factors of big change: novelty, volatility, disruption and complex scope.
If you plan to consume digitalized business processes as cloud services, develop the skills needed to be an internal cloud service brokerage (CSB) or factor into your sourcing strategy the need for a CSB that plays integration and customization brokerage roles.
Business Impact: Digitalized business processes carry out the work – the formal and informal interactions – that people, businesses and things do to exploit the digital industrial economy. Digitalized business processes capitalize on "smart" technologies, analytics and social collaboration and help accelerate an organization's shift from an internal focus on improving business processes to a focus on shaping and even leading the business ecosystem by enabling collaboration between customers, partners, suppliers and even competitors. For most organizations, the transition to a digital business involves significant redesign of business processes. The clear winners will be those enterprises that create and control the platform that enables the ecosystem.
Benefit Rating: High
Market Penetration: 5% to 20% of target audience
Maturity: Emerging
Agent Collaboration Tools
Analysis By: Kimberly Harris-Ferrante
Definition: Agent collaboration tools provide a virtual workspace for agents, consumers, home-office employees and third parties to collaborate using secure email, social media, secure document-sharing and communication tools, and secure instant messaging (IM). These capabilities are especially valuable for complex insurance cases or for financial planning scenarios that require sharing of marketing material, financial plans, insurance policies and account data.
Position and Adoption Speed Justification: Global life and property and casualty (P&C) insurers interested in adopting collaboration tools are primarily those with captive agency sales channels because insurers can justify the expense of deploying software that will help their agents sell. In some cases, they are able to deploy agent portals that also deliver collaboration capabilities. Adoption remains low, however, for several reasons:
The business case for agent collaboration tools continues to be weak. Insurance examples that correlate sales success or cost reduction to agent collaboration tools are only now beginning to emerge in the industry.
Social media management software is expensive and requires extensive content management by insurers. However, social media management software is required for public social media, such as Facebook and LinkedIn, to help agents maintain compliant sales practices.
Insurers struggle to deliver training effectively. Agents need to be trained not only on the functionality of the tools, but also on how to leverage collaboration tools to maximize sales and improve service and communication. Training agents in this way will help agents mentor younger agents, share sales ideas, brainstorm solutions to their agencies, connect with consumers and store useful information.
Older and experienced successful agents are reluctant to try new technologies or practices that might disrupt successful sales and interaction models with customers.
Even with these challenges, Gartner expects gradual growth in agent collaboration tools over the next five to 10 years in response to several trends: younger agents entering the sales force, increasing popularity of social media for business, maturing social media management tools, and a stronger emphasis on differentiation through improved services and solution selling. In addition to aiding agents in selling, insurers will continue to explore collaboration tools to help agents interact with each other to coach colleagues, train younger agents and support teamwork. Gartner expects agent collaboration tools to reach the Plateau of Productivity within the next two to five years.
North America leads emerging markets in Asia/Pacific and Latin America in the adoption of collaboration tools, particularly as they relate to public social media. Global markets are expected to catch up during the next five years; however, as vendors include these capabilities in their offerings, agents see proven value, and insurers recognize that these tools have become table stakes in empowering agents. Mature insurance markets such as Australia, Japan and Western Europe, in which agents are more wirelessly connected, are likely to surpass the North American market as they find ways to use their mobile devices to sell and service their customers more effectively.
User Advice: Life and P&C insurers should look for opportunities where agent collaboration tools can deliver value to their agents. They should begin by examining how agents currently interact with other agents, consumers and home-office employees without the aid of agent collaboration technologies, and they should determine what technologies might assist agents in these interactions. Agents will be more receptive to technology that is applied to existing face-to-face interactions; insurers will find that it is easier to prove the benefits of these tools to agents when they mirror and improve their current everyday activities. Functional areas where agent collaboration tools can benefit agents include:
Mentoring for younger, less experienced agents.
Enhancing existing agent portals by adding IM, blogging, Web conferencing and secure-document-exchange technologies.
Removing geographic boundaries for virtual teams, which encourages teamwork within the agent network.
Ensuring content and sales practice compliance.
Illustrating the value of insurance products over the Internet with screen-sharing and planning tools.
Insurers should monitor the growth and popularity of social networking and collaboration tools in other industries to help them assess when their customers and prospects will demand these types of technologies. Gartner believes that consumers will not be demanding real-time virtual interactions with their agents for several more years, but that these interactions will become a key differentiator for customers who are more adept at technology.
Business Impact: For consumer relationships, collaboration tools will increase agent productivity and increase sales by managing interactions between agents and consumers for sales and service. Agents will be equipped to increase their influence and generate leads through social media sites. Agents can also use other agent collaboration tools to service their customers by collaborating on existing products and financial plans, to provide holistic advice, to share product knowledge, and to help consumers with complex financial needs. Agent collaboration tools will also help agents to collaborate with each other by sharing product knowledge, marketing and sales best practices, and agency best practices.
Gartner expects the use of agent collaboration tools to be widespread in all types of agent, home-office and consumer interactions. But while various types of collaboration tools will impact almost every interaction, the overall effect will be incremental and will not be transformational to the fundamental ways insurance is sold and serviced today. The slow adoption of agent collaboration tools, the lack of maturity of the existing tools, the limited investment on the part of life insurers, and the lack of user adoption of these technologies place the benefit rating as moderate in this year's Hype Cycle.
Benefit Rating: Moderate
Market Penetration: 1% to 5% of target audience
Maturity: Emerging
Sample Vendors: eMoney Advisor; FirstBest Systems; Fiserv (AdviceAmerica); Hearsay Social; IBM (Lotus); Microsoft; Oceanwide; Socialware
Cloud Computing
Analysis By: Juergen Weiss
Definition: Gartner defines cloud computing as a style of computing in which scalable, elastic, IT-enabled capabilities are delivered as a service using Internet technologies.
Position and Adoption Speed Justification: Cloud computing continues to generate strong interest among life and property and casualty (P&C) insurers, and is moving quickly toward the Peak of Inflated Expectations. According to Gartner's 2014 CIO survey, cloud computing is among the top 10 IT priorities of CIOs; however, the vast majority (87%) of the 114 insurance CIOs surveyed are avoiding public clouds, preferring private or, in some cases, hybrid options instead. Most insurance IT organizations are adopting cloud computing for business support or for infrastructure applications, such as human resources, sales force management and email. Insurance industry adoption of cloud computing in core applications, such as policy administration and claims management, remains low.
A number of factors are inhibiting the adoption of cloud computing in the insurance industry, including concerns about data security and availability. Another issue is that complex and often highly customized legacy IT landscapes make it difficult to move resources into the cloud. In addition, no insurance-specific cloud computing services for infrastructure or platform as a service are currently available, and the growth in the number of software-as-a-service offerings is slow. Due to CEOs' and CFOs' cost savings and efficiency expectations, cloud computing will continue to move rapidly along the Hype Cycle during the next two to five years. Adoption in insurance has already begun with generic infrastructure services (such as email and archiving), highly commoditized functions (such as HR and CRM), and niche functions (such as special investigation units and corporate communications), as well as functional areas with a high need for processing power (such as actuarial modeling applications). Gartner also expects industry bodies to promote this operating model. One example of such an effort is the Trusted German Insurance Cloud Initiative of the German Insurance Association.
User Advice: Insurers should closely monitor the emerging landscape of cloud computing vendors and solutions, because to date, very few vendors have verticalized their offerings. Gartner expects many vendors to market existing non-cloud offerings as cloud computing services (for example, application service provision [ASP] or grid-computing value propositions such as for actuarial modeling applications), which could lead to increasing confusion among customers. We recommend that insurers:
Carefully analyze the technical capabilities, security and SLAs of vendors before considering subscribing to any cloud computing services.
Assess whether cloud computing services can complement or adequately replace the applications currently deployed in-house. Cloud services may also help insurers achieve better economies of scale for certain products or services, such as variable annuities.
Consider factors beyond cost optimization when considering switching to a cloud computing model. Insurers should not, for example, forget the different local regulatory or legal requirements that apply. Many regulations limit or even prevent insurers from processing and storing personal customer data outside the countries in which they operate. In addition, insurers need to invest in further training of their IT personnel to monitor and manage SLAs with cloud computing vendors.
Evaluate various cloud models beyond private and public clouds. Hybrid or community cloud options, for example, could provide cost savings, though their adoption may be limited by data security issues.
Business Impact: Cloud computing can become an interesting alternative for a wide variety of IT tasks that would not justify the cost of an on-premises application, or that need to be executed periodically and require significantly higher computing resources or more hardware resources than are normally available. Another decision criterion is whether an insurer's IT organization is willing to accept a shared hardware/software environment. Potential application areas for cloud computing are:
Actuarial modeling and simulation
Portfolio replication for risk management analysis
Business intelligence and analytics
Mobile applications
Sales management
Incentive compensation
Data center recovery and disaster management
Support of core insurance processes in "greenfield" operations, such as policy administration, billing and commission management
Insurers could benefit from lower service costs (due to greater resource sharing, greater economies of scale, and greater levels of architectural standardization and process optimization), and potentially improve the agility of their IT organizations by providing faster deployment cycles and freeing up internal resources for other high-priority projects. Cloud computing also can increase the software and service options available to insurance companies. Smaller vendors, which normally lack the resources to offer their applications in many markets, might leverage the cloud to expand their reach. Finally, cloud computing can support insurers' growing desire to experiment with new products and channels, expanding their business reach and allowing them to quickly establish operations in new markets.
Benefit Rating: High
Market Penetration: 5% to 20% of target audience
Maturity: Emerging
Sample Vendors: Amazon; Google; Microsoft; salesforce.com; VMware
Predictive Modeling Solutions
Analysis By: Kimberly Harris-Ferrante
Definition: Predictive modeling solutions are a form of data mining technologies that work by analyzing historical and current data, and generating models to help predict future outcomes. These technologies can be used to generate a score (for example, a credit score), to assess behavior (for example, fraud detection or customer acquisition), or to analyze needed reserves to help improve decisions, such as underwriting risk selection, or identify next-best actions in real time (also known as prescriptive analytics).
Position and Adoption Speed Justification: Predictive modeling solutions continue to gain attention and adoption among both property and casualty (P&C) and life insurers alike. During the past two years, insurers have increasingly focused on getting more value from their data assets and having real-time, predictive analytics.
Driven out of an intensified interest in data management and analytics, insurers are expanding the use of predictive modeling solutions to new processes and business units. Using predictive techniques provides great value to insurers in multiple business units, including underwriting, claims, customer service, product pricing and risk management. Overall, predictive modeling helps to provide greater insight into decision outcomes, early triggers on upcoming issues (for example, the likelihood of customer churn), or model analysis to determine the long-term impact of an event (for example, a catastrophe).
Examples of the use of predictive modeling include:
Actuarial analysis and pricing to run models that test product pricing and assess risks. Many life and P&C insurers are applying predictive modeling in areas such as pricing products, testing the effect of pricing changes, stochastic modeling, optimizing prices, and assessing the adoption of new products to be launched (including the impact on existing products and the overall impact on product profitability). This, combined with product development strategies (including the use of product configurators), will help launch new products and ensure their quality, including accurate pricing for risk and meeting customer coverage needs.
Website quoting in P&C insurance. Many insurers are shifting to direct-to-consumer business models, and looking to reduce the number of questions needed for quote creation and underwriting. Insurers can identify the most predictive data elements correlated with risk and losses, and those that are not correlated with outcomes can be removed from the application process or not used in screening. For example, predictive modeling uses factual data to assist underwriters in making better decisions for identifying and segmenting risks.
Claims. Insurers are implementing real-time fraud analytics to generate a risk score to determine the next action (for example, fast path or handoff to a skilled adjuster), and identify process improvements, which would contribute to loss reduction or customer experience improvements. These predictive techniques can be deployed stand-alone, but many are now being leveraged in claims analytics, which may come embedded in a claims management module for a holistic process.
Pricing optimization. It can help determine appropriate pricing models for consumers or segments, based on profitability, pricing tolerance and other models.
Marketing and customer churn. It can help identify customers and segments, enabling a greater response rate for new marketing campaigns, and churn, identifying customers to focus on preserving relationships with in advance.
Underwriting risk assessment. Using new data sources and predictive models, insurers can automate underwriting decisions and improve underwriting results. In some cases, life insurers may even use these models to replace traditional and manual underwriting steps like medical underwriting.
Agent or distributor performance projections and compensation analysis. Predictive models can determine future revenue opportunities of a distributor or new agent office, as well as supplement commissions data to support compensation plans.
To date, only 5% to 20% of insurers have adopted predictive modeling solutions, with adoption mostly in the Tier 1 and Tier 2 organizations. North American insurers have the highest use, followed by European insurers, with use starting slowly in APAC and Latin America. Adoption is projected to continue and spread into new geographies and premium tiers during the next few years, reaching the Plateau of Productivity within two to five years. This will be accelerated as companies embark on big data projects and complete initiatives such as single view of the customer to mine customer data for determining the next best action.
Mainstream adoption will be driven by the embedding of predictive modeling into business solutions (for example, claims analytics solutions or underwriting risk scoring), in which the technology comes with business models and is preintegrated out of the box, rather than companies needing to buy horizontal solutions that they then have to implement and build out in their own models.
Model development will be a major challenge for insurers during the next few years due to projected staffing limitations as data scientists are increasingly difficult to recruit. Small to midsize companies lack the skills to use predictive modeling in many cases, and vendors often lack expertise in insurance to help guide implementations. Core insurance vendors (such as those dealing in underwriting, policy, billing and claims) are just starting to add embedded or integrated predictive modeling into their solutions, and most predictive modeling tools are still sold as stand-alone or combined with larger business intelligence (BI) toolsets.
Using predictive modeling on top of existing data investments, including underwriting tools and BI platforms, will multiply the value derived from those investments. Also, models will advance with continued use. Most companies, however, now have basic deployments for predictive modeling solutions.
User Advice: P&C and life insurers:
Include predictive modeling as a key element of information management strategies, and ensure support for CRM, risk management, pricing or actuarial analysis, claims, and underwriting initiatives. Insurers launching direct-to-consumer sales portals will find it helpful in identifying a reduced question set to generate more-accurate quick quotes, without compromising risk or price accuracy.
Look for solutions that have prebuilt models (for example, underwriting for workers' compensation or long-term care), to better evaluate constantly evolving data and to provide a basic model to adapt during implementation. This is particularly important for small to midsize insurers that lack experience in predictive modeling. Smaller insurers may also prefer cloud-based solutions, where their implementation investment is minimal, and pricing is more by consumption or use.
Recruit and invest in building data scientist competencies to help with model development and results interpretation.
Look for solutions used in lines of business to reduce deployment requirements and the time to customize the solution. More insurers will begin using predictive modeling in commercial lines as these models become productized, rather than a custom build with vendors, or a solution that is built in-house.
Business Impact: Predictive modeling will enable insurers to more accurately predict customer behavior or trends, manage risks, improve fraud detection, reduce claims leakage, improve underwriting profitability, and assist with product pricing. Insurers can analyze historical patterns or trends in the data, thereby learning more about how operations or business functions perform over time (for example, historical claims patterns can help determine the key characteristics of policyholders that contribute to a higher rate of claims submission).
This will enable insurers to identify customer segments that are more profitable, identify risk factors and characteristics that are more correlated with high claims risk, identify fraud indicators to apply to current claims handling, launch direct-to-consumer retail operations, assist in pricing and actuarial tasks, and – ultimately – improve year-over-year performance.
Benefit Rating: High
Market Penetration: 5% to 20% of target audience
Maturity: Adolescent
Sample Vendors: Claim Analytics; Eagle Eye Analytics; Earnix; FICO; IBM; InEdge; ISO; SAS; Valen Analytics
Master Data Management
Analysis By: Kimberly Harris-Ferrante
Definition: Master data management (MDM) is a technology-enabled discipline in which business and IT work together to ensure the uniformity, accuracy, stewardship, semantic consistency and accountability of the enterprise's official shared master data assets. Master data is the consistent and uniform set of identifiers and extended attributes that describes the core entities of the enterprise including customers, prospects, citizens, suppliers, sites, hierarchies and chart of accounts.
Position and Adoption Speed Justification: Insurers are slowly recognizing the need for MDM. As companies embark on large analytical projects, especially around single view of the customer, they are finding that MDM is a needed foundational element that will help facilitate success. Companies are looking to find common standards for how they merge customer information that today resides in a variety of diverse policy and core systems across the company. By applying MDM, insurers are able to derisk customer information aggregation projects; however, the investment is high and the business case vague for many because the return on investment is qualitative, not quantitative, at best. As a result, Gartner projects that MDM adoption is only between 5% to 20% of the target audience, and projected time to cross the Hype Cycle is five to 10 years.
User Advice: Organizations with complex and/or heterogeneous application and information landscapes will likely suffer from inconsistent master data. Sometimes the costs to use this data to improve business outcomes becomes too high, at which point an MDM program may be more practical. This may span any number of business applications including customer-facing, supplier-facing, enterprisewide, or value chain. More strategically, if your business strategy is dependent on the consistency of the data within your organization, MDM may be adopted for strategic reasons. Type As and innovators have already started to adopt MDM in some fashion. Type Bs and fast followers are now beginning this journey too. Companies investigating the use of MDM should:
Ensure a clear line of sight to business benefits and business sponsorship.
Identify specific solutions for the most important master data in the organization, such as customer, product and (potentially) financial data, paying particular attention to vertical industry experience provided by the tools. Plan on using them for the next two to three years as the second generation of MDM products matures.
Identify the architectural role that each implemented MDM solution will play in your enterprise information management approach, relative to the information architecture.
Leverage previous experiences in dimensional data development for BI initiatives to identify the most fragmented but reused data domains in the organization. Begin your MDM efforts with those domains.
Business Impact: Leading organizations that create an MDM strategy (to implement MDM and its supporting technology) that is well-thought-out, holistic and business-driven will be able to deliver significant business value in terms of enabling competitive differentiation and business growth, improved customer services, and reduced time to market as well as delivering on operational efficiency and meeting governance, risk management and compliance requirements.
Benefit Rating: High
Market Penetration: 5% to 20% of target audience
Maturity: Adolescent
Sample Vendors: IBM; Informatica; Kalido; Oracle; Orchestra Networks; Riversand; SAP; Software AG; Teradata; Tibco Software
Location Intelligence
Analysis By: Kimberly Harris-Ferrante
Definition:
Location intelligence is a business capability for the application of location information, obtained via a device or from mapping data/services, to a business process (for example, underwriting, claims or customer intelligence).
Position and Adoption Speed Justification: Insurers have been increasingly looking to use location intelligence for many years; however, adoption today is projected to be only 5% to 20% of the target audience. Traditionally, P&C insurers have used geocoding or geography information systems (GIS) to help with internal processes, primarily underwriting for improved visibility into property risk. Using GIS technology, companies were able to look up addresses to determine proximity to environmental risks such as flood zones. More recently, innovative insurers have looked for new ways to deploy GIS for other business processes including agent office location and proactive claims customer servicing. Others have used tools such as aerial images to further view property risks of homes and buildings using satellite images. Few have begun to look at new technologies that can augment location intelligence such as mobile devices that provide both location information and other information on context of the customer. As P&C insurers, in particular, further roll out customer-facing mobile applications, they will begin to better use location intelligence capabilities from these devices to provide more data on customers and insurance risks.
User Advice: Insurers should review all business processes where physical location information is needed to determine how location intelligence can help improve decision accuracy, create new opportunities for products/services and provide improved customer service. Assess how location intelligence can help with underwriting, distribution, product development, claims processing, fraud investigation and marketing. Assess how location intelligence can help create new opportunities around usage-based insurance (for example, leveraging location information obtained via the device to help understand risks associated with where customers live or travel to). Determine how location intelligence can be a conduit for improved customer service, including providing information on risks associated with driving paths or in claims' first notice of loss. Assess data requirements for storage of location information including storage limits and how information will be mined by business users in real time.
Business Impact: Location intelligence has dramatic impact on the insurance industry because it allows for significant process improvements across the enterprise in many business units including claims, underwriting, distribution, marketing and product development. It can help with measurable outcomes such as reduced risk, improved profitability of agent offices, improved return rate on customer marketing efforts, improved customer loyalty, faster claims processing and reduced losses (in areas such as fraud management). The use of location intelligence provides business users with a key data element on physical location, which will help augment their existing information on clients/properties to help improve awareness.
Benefit Rating: High
Market Penetration: 5% to 20% of target audience
Maturity: Adolescent
Sample Vendors: CoreLogic; Esri; Google; Pitney Bowes
Social Media
Analysis By: Juergen Weiss
Definition: Gartner defines social media as an online environment where content is created, consumed, promoted, distributed, discovered or shared for purposes that are primarily related to communities and social activities, rather than to functional, task-oriented objectives. "Media," in this context, represents an environment characterized by storage and transmission, while "social" describes the distinct way these messages propagate in a one-to-many or many-to-many fashion.
Position and Adoption Speed Justification: Social media is having an increasing impact on the insurance industry internally (via social media usage by insurance employees) and externally (via social media usage by insurance intermediaries and customers). The influence of social media can be seen in many areas. Gartner research among insurance clients has shown that product recommendations from friends and family are more important than recommendations from insurance agents and brokers for consumers selecting term life or motor insurance products. The basic usage of social media does not vary significantly between the life and property and casualty (P&C) insurance markets, but there are differences in its frequency and patterns of adoption and usage. Many life and P&C insurers are still unsure as to how to utilize social media and measure their business impact.
Social media will become increasingly important for insurers' reputation management, marketing and CRM activities. Other opportunities include the use of social media in underwriting decisions, claims and fraud management. Some insurers have also built their own social media platforms to better control their interactions with clients, prospects and intermediaries; to facilitate better collaboration with their agency networks; or to increase the frequency of their customer interactions. Other insurers are investing in helping agents create their own social networks that can be harvested for customer data, life change events, advice and lead generation. The use of social media is impacted by the line of business. P&C insurance has more service incidents (such as claims) and a higher frequency of switching insurance providers than life insurance, while social media is often used in life insurance to educate clients about financial protection.
Although there are different maturity levels among insurers, we expect social media to continue to move quickly along the Hype Cycle. We have also noticed that interest in social media among insurance CIOs has decreased. The topic is also not listed among the top 10 technology priorities in Gartner's 2014 CIO survey. From a business perspective social media is still of interest to marketing and business departments for improving customer intelligence. Most business leaders in insurance will need more time to test social media as part of their service and communication strategies, which will ultimately lead to higher social media maturity levels.
User Advice:
Establish a social media governance committee with representatives from various internal organizations to assess the legal, business and IT implications of social media. Publish guidelines for employees and agents.
Develop a social media strategy to determine where to be present and in which format. Maintain a long-term view on the insurer's relationships with social media sites that aggregate large online audiences.
Begin experimenting with social media for external and internal purposes, to gain the necessary experience to see how your ideas provide value to employees, agents/brokers and customers.
Determine the pros and cons of public social media networks versus the design of internal ones for collaboration with intermediaries and communication with clients.
Implement more-sophisticated social media monitoring tools to analyze and track patterns of social media engagement and the content posted on social media sites to identify trends.
Monitor what customers are saying about the insurer and its products and services on social media technologies such as blogs, social networks and Twitter. Introduce policies covering how to respond to these comments, and use the feedback to improve offerings.
Use information that can be collected from social media to help identify customer needs, and then use social media itself to send targeted messages to current and prospective customers.
Business Impact: Social media enables consumers to connect autonomously with one another online, creating multiple networks of users, influencing purchasing decisions and increasing the market transparency of commercial offerings. Life and P&C insurers should use Internet users' desire for community-building, personal interaction and content-sharing to increase awareness of their brands, to intensify the conversation with their customers and prospects, and to experiment with new products and services. Some examples are the establishment of communities to rate new insurance products and the use of social media to facilitate advice and best practices for agents and brokers.
Social media can also support business and IT managers from life and P&C insurance in fostering communication and collaboration among employees, customers and intermediaries, and in protecting their brands by enabling immediate responses to criticism. Gartner is convinced that social media is having a growing influence on the behavior of insurance customers, and that it can lead to significant changes for the collaboration between insurers and intermediaries. We expect social media to play an active part in virtually all insurance sales and service functions during the next five to 10 years.
Benefit Rating: High
Market Penetration: 5% to 20% of target audience
Maturity: Adolescent
Sample Vendors: Facebook; LinkedIn; Twitter; YouTube
Media Tablets
Analysis By: Juergen Weiss
Definition: A media tablet is a device based on a touchscreen display, typically multitouch, that facilitates content entry via an onscreen keyboard. The device has a screen with a diagonal dimension that is a minimum of five inches. Media tablets feature connectivity via Wi-Fi or 3G/4G cellular networks. Tablets typically offer day-long battery life and lengthy standby times, with instant-on access from a suspended state.
Position and Adoption Speed Justification: Several life and property and casualty (P&C) insurers have introduced media tablets for internal employees and agents or claims adjusters working in the field. Insurance business and IT managers usually target a smaller user population and hesitate to completely replace their existing mobile IT infrastructures (in the form of notebook computers and other devices). There are, on the other hand, many more users in the insurance industry that are leveraging their privately owned media tablets for their daily work, and several insurance CIOs have introduced bring your own device (BYOD) policies to support such use cases. Since their introduction to the market, media tablets have made other, proprietary insurance devices, such as underwriting tablets, redundant.
Insurance IT managers will often combine media tablets with other technologies, such as cloud computing and corporate app stores, to distribute mobile applications to the devices. Although media tablets have become popular in the industry, not all insurers are making use of them on a large scale. Inhibitors of adoption include the cost of the devices and continuous technology limitations (such as limited printing and Flash support) as well as security considerations and requirements for additional infrastructure investments (for device management).
Despite these challenges, Gartner expects media tablets to gain much wider adoption in insurance, especially in markets such as the Asia/Pacific region, where there has always been a tendency for new technologies to "leapfrog" older ones. Media tablets will, therefore, move quickly along the Hype Cycle, reaching the Plateau of Productivity in less than two years.
User Advice: Insurance IT managers should prepare for media tablets to continue to gain traction among agents and employees as the devices increase in popularity with consumers. In many cases, these devices have already entered the enterprise, with employees using their own media tablets for work. IT managers should implement or review a BYOD policy and apply the managed diversity model for these devices and should decide whether the security features of specific tablets are sufficient to address the risks associated with mobile users' job roles and application needs. Wider adoption of tablets by agents and employees will also lead to increasing demand for mobile applications that significantly enhance the user experience or improve productivity. Insurance IT managers need to ramp up their own or third-party development capacity for such applications and develop concepts for distribution of these apps (for example, via corporate app stores). Media tablets will, on the other hand, not be appropriate for all user roles, and IT managers need to carefully assess their opportunities and limitations.
Business Impact: Media tablets, with their multitouch and always-on features, will lead to fundamental changes in many front-office applications, such as needs analysis, illustrations and underwriting. Applications will become more intuitive and will leverage the native capabilities of media tablets for streamlining and digitalizing paper-based business processes. An insurance agent can, for example, take a picture of an applicant's ID card or embed a handwritten signature for authorization purposes. Media tablets will, therefore, contribute to higher productivity and shorter processing times for policy issuance, claims management and other core insurance processes. This will ultimately move more back-office transactions to the point of sale and create a competitive advantage for insurers with wider media table usage.
Benefit Rating: High
Market Penetration: 5% to 20% of target audience
Maturity: Early mainstream
Sample Vendors: Acer; Apple; Asus; Lenovo; Motorola; Samsung Electronics
Sliding Into the Trough
Mobile Claims Apps
Analysis By: Jeff Haner
Definition: Mobile claims apps are applications created for mobile devices to support claims handling and processing by adjusters, partners and policyholders for various property and casualty (P&C) product lines.
Position and Adoption Speed Justification: Mobile claims apps were first created to support claims adjusters and catastrophe response units, providing capabilities including:
Location-based services using GPS technology
Access to customer information, including policy, coverage and past claims data
Collection of loss data and estimates
The most notable change since mobile claims apps were first introduced has been a shift in focus from apps for internal and partner use to consumer-facing mobile technologies. Many major insurers worldwide have launched mobile apps to provide consumers with roadside assistance, first notice of loss (FNOL) and other functions. In 2014, insurer interest and investment in mobile apps remains high. Insurers continue to work to expand the range of transactions that can be supported by mobile claims apps and to tap mobile device capabilities that allow the user to take photos, record audio and video, and capture signatures. Paradoxically, consumer adoption of insurance mobile applications remains very low.
One area in which there has been increasing interest – and recent success stories – is the use of mobile apps for post catastrophe response. The media tablet form factor lends itself well to catastrophe response by claims adjusters by providing a larger work area for complex activities. There has also been an increase in interest in mobile apps for e-procurement to be used in conjunction with property, auto and physical damage claims adjusting. These apps enable adjusters to complete tasks such as immediately ordering replacement parts and requesting services for the customer (for example, towing or repair) or issuing a debit card. This makes the claims-handling process more efficient and allows the insurer to use prenegotiated discounts. These efficiencies are especially valuable in a post catastrophe setting, when rapid response is critical.
The adoption of mobile claims applications among P&C insurers has surged in recent years – especially in mature insurance markets such as North America and Europe. Internal, partner and customer-facing mobile applications are receiving strong interest in various regions worldwide, especially for customer FNOL. However, within this Hype Cycle, continued lack of consumer adoption is pushing mobile claims applications off the Peak of Inflated Expectations and into the Trough of Disillusionment.
User Advice: To ensure mobile claims apps provide value and promote user adoption, develop specific scenarios for how mobile claims applications will be used by different user types – such as adjusters, customers and supply partners – for services or goods during traditional claims adjusting and in a catastrophe response scenario. Assess the value of e-procurement for property and physical damage claims adjusting. For each scenario, identify how frequently it is likely to occur, which form factor (smartphone or media tablet) would be most desirable and whether additional connectivity options (for example, via satellite) may be needed.
Use these scenarios to guide investment decisions, such as updates to your technology infrastructure to support mobile connectivity, decisions on which form factors to support and whether native mobile claims applications are needed at all (in some scenarios, mobile Web that would not require an app to download prior to use is most appropriate). Ensure that applications support the variety of mobile devices used by your customers, and confirm that your employees actually have the mobile devices to run these applications. Some insurers may need to modify their policies for issuing mobile devices or supporting the use of employee devices in a bring-your-own-device (BYOD) model. Core system vendors are beginning to introduce mobile claims apps. During any claims management module evaluation, assess their mobile app capabilities for potential fit with your needs. At minimum, ensure that the claims module can support mobile devices.
Measure the return on investment (including maintenance) of mobile deployments through the impact on claims cycle time, customer satisfaction and retention, and adjuster productivity.
Business Impact: Mobile claims applications have the potential to provide insurers with a number of key benefits:
Immediate FNOL with more complete data, such as real-time pictures from accident sites, to speed claims handling and improve fraud management and adjusting
Reduced data entry costs as customers supply more electronic data with their claims
Improved productivity through the enabling of real-time assignments from the home office to adjusters in the field and submission of documents, photos and video
Improved catastrophe management through faster loss notification and real-time, on-site claims processing
Improved customer satisfaction and retention, as process improvements improve speed and transparency of the claims process to policyholders
Differentiation with technology-savvy consumers, potentially impacting customer acquisition and retention Mobile claims applications have moved past the novelty stage and, despite lagging consumer adoption, are being increasingly viewed by insurers as an indispensable tool. Their use promises to help insurers speed the claims-handling process, improve adjuster productivity and improve customer satisfaction with the claims experience.
Benefit Rating: High
Market Penetration: 5% to 20% of target audience
Maturity: Adolescent
Sample Vendors: CSC; IBM; Microsoft; Mobitor; SAP (Sybase); Symbility Solutions; Verivo Software
Customer E-Services
Analysis By: Juergen Weiss
Definition: Customer e-services go beyond simple email forms or requests that can be downloaded, printed and physically sent to the insurer. Customer e-services are usually part of a secure Web environment and include a wide range of customer self-service functions, such as displaying policy details and changing master data. Access to these e-services is usually restricted to current customers in a personalized "my account" section of the insurer's website, and requires previous registration or, in the case of group insurance, enrollment by the employer.
Position and Adoption Speed Justification: E-services have been used in various forms for almost 10 years. E-service investments will lay the foundation for tomorrow's mobile connectivity for tasks such as real-time claims submissions by policyholders via handheld devices. Gartner has, therefore, seen a growing demand by life and property and casualty (P&C) insurers to add customer e-services capabilities to their customer portals for different lines of business and product types. Two of the main reasons for the wider adoption of e-services among insurers are client retention and cost considerations. Insurers want to offer their customers a 24/7 online service, and they are aiming to improve their operational efficiency by offloading routine administrative tasks to their customer bases. Typical examples are changes of address and other master data, as well as provision of self-services such as fund selection or submission of first notice of loss. While some of these functions are already common in mature markets, such as North America or Europe (especially for read-only access), they are only beginning to be implemented in other regions, such as Asia/Pacific or Latin America.
Adoption of customer e-services by insurance clients is often limited by cumbersome onboarding procedures and the absence of incentives. Another major inhibitor is the low frequency of interactions between customers and insurers. Many customers have only one touchpoint with their insurers per year (the premium invoice). Gartner expects more insurers to add selected e-services to their customer portals or their mobile applications, which will lead to faster adoption in the insurance industry. We don't expect this functionality to reach the Plateau of Productivity within the next 2 to 5 years; however, most insurers will deploy only a limited number of e-services.
User Advice:
Assess the needs of user for customer e-services, and their behavioral preferences. Consumers are increasingly technology savvy; they expect Web access to insurance policy and transactional data, and conducting real-time transactions. Having e-services capabilities is one element of the e-business plan. Having customer-facing self-service capabilities will be essential for personal and commercial lines of business across different products.
Enhance customer e-services by expanding with functions that users need for their day-to-day interactions, including claims, billing and policy servicing. This will require real-time access to core systems. Insurers need to quickly assess their core system capabilities to support real-time processing and data integrity in the early stages of their site deployments. Furthermore, sites need to be interactive, supporting integration with social platforms and chat to provide online users with opportunities to interact with insurers or agents through alternative channels.
Ensure that customer e-services are mobile friendly and can support the various devices and platforms that would be used in your country. Cultural, device use, and behavior will vary by country and line of business.
Insurers should monitor user adoption and be prepared to offer incentives to entice adoption. Once customer e-services are launched, website and usage analytics should be used to evaluate access to the service, ensure that e-service strategies are continually tweaked to match shifting customer expectations, and ensure that marketing initiatives are deployed to drive users to use the functions deployed.
Ensure that you develop a multichannel integration architecture that will promote consistent processing and cross-channel transactions. Customers will use e-services in addition to customer service via agents/brokers and the call center. It is imperative that all channels are integrated to ensure good customer experiences.
Business Impact: Customer e-services allow users the convenience of a single location to have their particular service needs met, such as accessing policies, claims, billing and other information. Providing customers with the tools to help manage their insurance product portfolios will increase their satisfaction with the insurer and, ultimately, help increase customer retention. Insurers that offer customer e-services with a sophisticated back-office integration (without manual re-entry of data) can realize considerable cost savings by avoiding call center interactions and reducing errors due to manual processes.
Benefit Rating: Moderate
Market Penetration: 20% to 50% of target audience
Maturity: Early mainstream
Telematics
Analysis By: Kimberly Harris-Ferrante
Definition: Telematics refers to the use of in-car installed and after-factory devices to transmit data in real time back to an organization, including data about vehicle use (for example, miles driven, speed and location using GPS), maintenance requirements, air bag deployment or automotive servicing. Telematics serves as the platform for usage-based insurance (UBI) for both fleet and personal auto insurance, including pay-per-use insurance, pay as you drive (PAYD) insurance and pay how you drive (PHYD) programs.
Position and Adoption Speed Justification: Telematics is based on the idea of the "connected vehicle," in which new technology is embedded that can send data to an insurer on location, miles driven, vehicle condition and driving behavior. Leveraging telematics-derived data opens up new product opportunities for both fleet and personal auto insurers, and provides benefits such as providing granular data on high-risk populations (for example, teen drivers) and helping to reduce claims as behavioral feedback is shared with drivers, allowing them to reduce their driving risks. It can be deployed for both personal and commercial autos. However, almost all of the attention for telematics deployments during the last two to three years has focused on personal auto.
For these reasons, telematics has been gaining attention among insurers during the past five years with significant peaks in new rollouts and investments in 2013 and early 2014. The highest penetration to date has been in the US, with major Canadian, European and Asian insurers starting their telematics deployments more recently. Existing insurers offering UBI continue to innovate – for example, Progressive's Snapshot program in which a small device is used to collect data for 30 days to show drivers what they can save by using the UBI product. In other regions, telematics remains less mature with fewer live deployments and limited vendor offerings. As a result, we estimate that the overall adoption rate for telematics in auto insurance to be between 5% and 20%.
During the next five years, Gartner expects interest and investments in telematics-based insurance programs to rise globally, with adoption growing year over year in mature countries, and new initiatives starting in emerging countries such as China. This will be fueled by consumer interest in reducing auto insurance premiums and the dropping cost of telematics technology as the vendor market continues to mature and consolidate to offer more viable telematics solutions. However, concerns by certain consumer groups over privacy will impact widespread adoption. These programs will also be spurred by government initiatives that will allow UBI products to be offered as well as set the stage for future telematics use (for example, the eCall initiative in the European Union, which requires that all cars be equipped with in-car emergency call technology by October 2015) and possible use of smartphones to send geospatial data to the insurer instead of relying on in-car technology.
Additionally, we expect that UBI programs will mature, leveraging more data on driving behavior over relying only on the distance driven and becoming a source of real-time information that could be leveraged for additional service or product offerings. However, obstacles still exist for this technology to become mainstream. However, the vendor market continues to consolidate with the merger of hardware/software companies, telematics data providers strengthen their offerings, and new best-of-breed niche telematics offerings emerge to offer a "one stop shop" approach for mid-market insurers.
User Advice:
Insurers that have not yet launched UBI programs should continue to monitor pilot projects and PAYD initiatives that are public and analyze the long-term impact that telematics devices are having on the personal and commercial auto insurance industry. Watch the vendor market for consolidation and the emergence of service providers offering turnkey telematics offerings. Tier 1 insurers that have yet to launch UBI products should quickly review their strategies to identify the risks in failing to offer these product lines.
Insurers that are planning UBI launches should ensure that all investments made in core system replacements and enhancements – including those to support product configuration, policy management and billing – will meet the product and process needs for UBI and other telematics-based insurance products and that they have sufficient data analysis capabilities to handle incoming data. Identify big data use cases for telematics and how technologies like predictive modeling could be used to better leverage telematics-derived data.
Insurers should select the right UBI platform based on their business models and internal technical capabilities. Tier 1 insurers may prefer to select best-of-breed technology and data companies, while midsize insurers may need a single source for end-to-end technology and services. Some companies may need to outsource data collection rather than build a big data infrastructure
Insurers offering UBI programs should evaluate their ROI, new opportunities for leveraging data to other customer segments outside the program and how behavioral models could improve results. Identify new customer segments other than high-risk populations where UBI would be suitable.
Insurers should evaluate the future of auto technology, including the autonomous car, to determine its impact on UBI programs, as well as on auto insurance overall.
Insurers should assess their local regulatory environments to learn of any pending issues around UBI launches, data disclosures, consumer data privacy impact and product filings.
Business Impact: Telematics will open up new opportunities for the auto insurance industry by providing a mechanism to offer products that are based on individualized risk and driving behavior. When telematics data is applied to underwriting, insurers can more accurately assess risk and price insurance coverage based on real-time data that's sent wirelessly from the vehicle. In the long term, the use of telematics will help with the recovery of stolen vehicles, faster claims submittals and improved roadside assistance for drivers.
In the long term, telematics can help reduce claims and driver risks. A study conducted by Zurich Insurance Group in late 2010 reported that the use of telematics can reduce motor fleet accidents by 30%. This will help promote profitability overall for commercial auto insurers.
Benefit Rating: Transformational
Market Penetration: 5% to 20% of target audience
Maturity: Emerging
Sample Vendors: Baseline Telematics; Evogi; LexisNexis; MyDrive Solutions; Progressive Casualty Insurance; Qualcomm; Quindell; Verizon; Vodafone
Electronic Bill Presentment and Payment
Analysis By: Juergen Weiss
Definition: Electronic bill presentment and payment (EBPP) comprises the presentation of online billing statements from premiums or other transactions to retail or commercial insurance customers. The technology is relevant for both life and property and casualty (P&C) insurance, and can also support Web-based payment methods, such as credit cards and direct payments.
Position and Adoption Speed Justification: Life and P&C insurers began introducing EBPP in the late 1990s to save costs, to provide self-service capabilities to their customers and to reduce their customer service representatives' workload. Adoption by both insurers and customers has, however, remained low, for a broad range of reasons:
Lack of content. Many customers have only one or two interactions per year with their insurers, because they are on annual billing plans and their insurers are not providing additional content to motivate them to use EBPP.
Inadequate IT capabilities. Many insurers are still running their billing and collections management systems on mainframe systems and face challenges in exposing application logic on a customer portal.
No real-time data. Customers who use EBPP typically expect portal data to be presented and updated in real time, but in reality, many insurers are still using batch processing.
Lack of incentives for customers. Very few insurers have established incentives for customers using EBPP (or penalties for paper processing).
Limited business value. In many geographies, insurers collect the bulk of their premium receivables via direct payment, or do not send out separate premium invoices, which limits the cost-saving potential of EBPP (in Germany, for instance, up to 80% or 90% of premium invoices are paid via direct debit).
Regulatory constraints. In some markets, regulators require sophisticated e-signature capabilities to support EBPP, or even require that insurers issue a paper-based premium statement.
However, heightened insurer interest in strengthening direct-to-consumer channels, as well as wider investment of core administration vendors in EBPP solutions, will lead to wider acceptance and move EBPP steadily along the Hype Cycle.
User Advice: Insurance IT leaders should work with their business peers to analyze EBPP's business implications and potential. This analysis should be based on demographic factors, such as the adoption of current billing and payment plans, as well as on a review of currently available master data. In a second step, IT managers need to determine how to embed EBPP capabilities into their existing portal or online service infrastructure, taking into account issues such as integration with billing and collections management, user authorizations, the scope of the self-service (presentment, payment or both) and onboarding strategies for new customers. CIOs can choose different EBPP technology options, ranging from in-house HTML development, implementation of a horizontal portal framework, or a vendor offering of a Web extension for the insurer's current billing and collection management system. Other technology considerations should include integration with multiple policy administration systems, as well as support for third-party bill aggregators, new payment methods (such as PayPal) or mobile devices. Insurance business and IT managers should also evaluate how EBPP fits into their overall customer communications and customer service strategy, including factors such as provision of additional portal contents and incentives for customers signing up for the service.
Business Impact: EBPP can help life and P&C insurers save on operational costs and provide additional back-office activities, including changes of payment/installment plans and requests for policy premium copies, as self-service. EBPP will also allow insurers to deliver additional content to the users of their customer portals and indirectly increase customer loyalty and cross-selling and upselling opportunities by motivating customers to interact more frequently with their insurers. EBPP is often one of the essential elements of fully digital product and service offerings for life and P&C insurers that can lead to competitive advantage.
Benefit Rating: Moderate
Market Penetration: 5% to 20% of target audience
Maturity: Adolescent
Sample Vendors: Bottomline Technologies; Fiserv; KUBRA; Striata
E-Services
Analysis By: Kimberly Harris-Ferrante
Definition: E-services are customer self-service capabilities that property and casualty (P&C) insurers offer to policyholders and agents/distributors via a portal to enable customers access to their policy information, make policy or administrative changes, get quotes for new policies or policy changes, and support customer service interactions (including bill presentment and payment, claims submittal and status check, and access to service networks).
Position and Adoption Speed Justification: Recent focus on customer-centricity and digitalization has brought new attention to e-services among P&C insurers. Insurers operating in mature countries continue to focus on how to improve the e-services capabilities they offer, whereas insurers operating in emerging countries are focusing on launching this capability for the first time. This includes focus on building out stronger customer service capabilities to allow policyholders to engage in a range of billing, claims and administration functions online. Insurers continue to re-evaluate their Web strategies to improve user interfaces, add new capabilities (including interactive features like chat), expand the services that are offered (including greater focus on electronic content and policy documentation delivery), and improve the mobile experience. Additionally, focus on aligning the customer experience with those of more sophisticated and technology-savvy consumers has risen as innovators focus on customer experience management (CEM). Gartner expects interest in improved e-services to continue during the next two to three years as insurers continue to become customer-centric and seek ways to enhance interactions with their policyholders. It is important to note, however, that in many geographies, consumer use of e-services remains low. Policyholders have limited use of basic administrative features (such as obtaining a copy of their policies or changing addresses) or bill presentment/payment; however, advanced tasks such as claims submittal or policy changes (for example, quotation for a new vehicle) have little adoption to date. Overall, Gartner research shows that auto insurance has the greatest opportunity for e-services use, with other products such as homeowner's insurance lagging in North America and Europe.
P&C insurers that are direct writers (solely or in combination with agent channels) were the largest influencers of the continued development and deployment of e-services. Traditional insurers (including those that have relied on agent and broker distribution channels) have begun to invest in launching e-services and increasingly enhancing their functionality to offer greater user experience and transaction capabilities. Adoption rates for e-services among policyholders vary based on the maturity of the industry and the sales model:
Every insurer has an established Web presence, giving them platforms to offer e-services. Gartner continues to see high levels of interest among insurers on how to improve Web capabilities for customer service in developed countries, as well as how to establish basic Web functionality in emerging countries where Internet insurance sites are nonexistent today. Building out customer-friendly sites, with a complete range of servicing tasks, and investing in consumer awareness to drive people to the sites are essential in driving policyholder adoption.
Direct writers generally have led in offering e-services, while traditional agent-based businesses have lagged. P&C insurers that are agent-based will continue to struggle with concerns regarding how e-service would infringe on their traditional distributors. They will, however, need to face these fears and be more aggressive in building direct-to-consumer e-services.
Increased focus on mobile enablement has driven heightened focus on e-services, including first notice of loss (FNOL) and other service capabilities via handheld devices.
E-service investments will lay the foundation for tomorrow's mobile connectivity for tasks such as real-time claims submissions by policyholders via handheld devices. Gartner has seen increased interest from insurers that want to extend e-service capabilities to mobile devices. This will require leveraging e-service capabilities, as well as converting the content and format to the device specifications to allow full viewing and transaction capabilities.
User Advice:
Assess the user needs for e-services and their behavioral preferences. Consumers and distributors are increasingly technology savvy; they expect Web access to insurance policy and transactional data and are conducting real-time transactions. Having e-services capabilities is one element of the e-business plan. Having customer-facing and agent-facing self-service capabilities will be essential for personal-line carriers first, but also will become commonplace with commercial lines because clients will want to see summaries of policies, claims reports and other critical information via a portal and mobile applications.
Enhance e-services sites by expanding functionality and making sites better match next-generation insurance consumers. Continue investing, and focus on adding the functions that customers and distributors need for their day-to-day interactions, including claims, billing and policy servicing. This will require real-time access to core systems, including policies and claims, which is difficult for many insurers today due to legacy system challenges. Insurers need to quickly assess their core system capabilities to support real-time processing and data integrity in the early stages of their site deployments. Furthermore, sites need to be interactive, supporting integration with social platforms and chat to provide online users with opportunities to interact with insurers or agents through alternative channels.
Ensure that e-services portals are mobile-friendly and can support the various devices and platforms that would be used in your country. Culture, device use and behavior will vary by country and line of business.
Insurers should monitor user adoption and be prepared to offer incentives to entice adoption. Once e-services are launched, website and usage analytics should be used to evaluate access to the service, ensure that e-service strategies are continually tweaked to match shifting customer expectations, and ensure that marketing initiatives are deployed to drive users to use the functions deployed.
Ensure that you develop a multichannel integration architecture that will promote consistent processing and cross-channel transactions. Customers will use e-services in addition to customer service via agents/brokers and the call center. It is imperative that all channels are integrated to ensure good customer experiences.
Build out proper authentication on the e-service platform to promote transaction security. Leverage new technologies, such as e-signature, to assist in securing online transactions if needed.
Craft new marketing and e-services promotions to drive greater use and adoption of e-services among distributors and policyholders.
Business Impact: E-services allow users the convenience of a single location to have their particular service needs met, such as accessing policies, claims, billing and other information. Providing customers with the tools to help manage their insurance product portfolios will increase their satisfaction with the insurer and, ultimately, help increase customer retention. Agent-facing e-services can reduce call center traffic, empower the agent/broker to more effectively service its customers, and help drive agent/broker loyalty.
Benefit Rating: High
Market Penetration: 5% to 20% of target audience
Maturity: Adolescent
Climbing the Slope
E-Apps for New Business
Analysis By: Kimberly Harris-Ferrante
Definition: Electronic applications (e-apps) are software solutions that life insurers use to collect relevant insurance information, retrieve and complete necessary forms, and electronically receive new-business applications from agents and consumers. E-apps are often integrated with other tools, such as sales, underwriting and compliance rule engines, to expedite the issuance of new annuities and life insurance. E-apps are provided to agents via distributor extranets or, in some regions, are delivered by third-party vendors.
Position and Adoption Speed Justification: Today, e-apps represent less than 15% of all new-business submissions across the industry, even in the most mature life insurance markets, but this is changing rapidly. Gartner expects that, by 2015, e-apps on media tablets will be the primary and preferred method for submitting new business for life insurance in mature markets. This dramatic increase will be driven by the concurrent growth of media tablets, a growing willingness on the part of agents to use e-apps, the growth of electronic signatures, and the maturity and ease of use of e-app solutions. Life insurers in emerging markets are behind those in mature markets, but they also want to move to digital processes and reduce paper by using e-apps.
Historically, e-app solutions have been provided to the industry from many different types of vendors – workflow, illustration, new-business workflow, administration, agency management and others. Insurers are increasingly attracted to solutions that:
Are dedicated to the e-app process
Contain electronic signature capabilities
Feature simplicity for adding and maintaining forms
Provide both Web and desktop delivery
Are increasingly providing mobile app capabilities
Several factors are driving the adoption of e-apps for life insurance. Agents are becoming familiar with, and more willing to use, e-app solutions for new business. In addition, consumers are increasingly accepting of e-app technologies; media tablets are poised to change the sales process; younger agents are more interested in using technology in the sales process; integration with adjacent functions is improving; and the technology continues to mature.
The largest barrier to e-app use is agent and agency adoption. Most insurers hope that e-apps will change the way the agent and the consumer interact, and that the agent will complete the e-app with the client as part of the sale, but this has been a struggle. More typically, the agent completes the application on paper while with the consumer, and the completed paper application is later keyed into the e-app system. In this scenario, the carrier has simply shifted the application entry work to the agency, but has not necessarily improved the overall process. This process also makes electronic signatures impossible, because the consumer needs to review the e-app in a secure environment, and then electronically sign and submit it.
User Advice: Life insurers need to:
Deliver e-apps that fit with the various selling locations and connection characteristics, such as face to face in the agent's office, face to face in the client's home or remotely across the Internet
Help agents integrate the technology with their current business processes and find ways to integrate electronic signatures with application processes
Encourage their agents to complete electronic forms when they are with the client, in order to fundamentally change the way applications are completed and submitted
Mobile devices with insurance-specific functionality will help agents to transition from paper-based selling to electronic-based selling.
For annuities, the focus should be on a structured approach to suitability and compliance at the point of sale to better facilitate the sale of more complex products, such as indexed annuities. Only after making key process improvements like these will it make sense to collect and submit new-business data electronically. When possible, relevant data from contact management, presentation, financial planning and illustration applications should be integrated with e-apps to minimize producers' data re-entry requirements.
Insurers should focus on user adoption by improving usability and providing user incentives for electronic application submissions. Insurers are offering e-apps that have a more paper-based look and feel instead of a wizard-style entry approach. A paper look and feel with all the necessary field validations, along with a media tablet, make the electronic sales process more attractive to agents, and will help drive adoption – particularly with agents who have resisted e-apps. For new-business transaction processing, life insurers will need to use e-apps that are tightly integrated with Web-based illustration systems and new underwriting systems. In addition, the most cost savings and process improvements will occur when e-apps are completed with the client – rather than after the sale is complete – with integrated electronic-signature capabilities.
Business Impact: When combined with process simplification in new-business processing and underwriting, electronic signatures and shorter application forms, e-apps are beginning to play a major role in transforming the new-business process. Key benefits include lowering the cost of new-business transactions, speeding up turnaround times, improving the ability to support regulations, reducing errors on applications due to electronic submissions and rekeying, and improving the ability to sell life insurance products via new distribution channels, such as banks, broker-dealers and independent financial advisors.
Benefit Rating: High
Market Penetration: 20% to 50% of target audience
Maturity: Early mainstream
Sample Vendors: Accenture; Aplifi; CSC; Ebix; iGATE; Insurance Technologies; MajescoMastek; Munich Re Automation Solutions; RGA; StoneRiver
Appendixes
Hype Cycle Phases, Benefit Ratings and Maturity Levels
Table 1. Hype Cycle Phases
| | |
| --- | --- |
| Phase | Definition |
| Innovation Trigger | A breakthrough, public demonstration, product launch or other event generates significant press and industry interest. |
| Peak of Inflated Expectations | During this phase of overenthusiasm and unrealistic projections, a flurry of well-publicized activity by technology leaders results in some successes, but more failures, as the technology is pushed to its limits. The only enterprises making money are conference organizers and magazine publishers. |
| Trough of Disillusionment | Because the technology does not live up to its overinflated expectations, it rapidly becomes unfashionable. Media interest wanes, except for a few cautionary tales. |
| Slope of Enlightenment | Focused experimentation and solid hard work by an increasingly diverse range of organizations lead to a true understanding of the technology's applicability, risks and benefits. Commercial off-the-shelf methodologies and tools ease the development process. |
| Plateau of Productivity | The real-world benefits of the technology are demonstrated and accepted. Tools and methodologies are increasingly stable as they enter their second and third generations. Growing numbers of organizations feel comfortable with the reduced level of risk; the rapid growth phase of adoption begins. Approximately 20% of the technology's target audience has adopted or is adopting the technology as it enters this phase. |
| Years to Mainstream Adoption | The time required for the technology to reach the Plateau of Productivity. |
Source: Gartner (July 2014)
Table 2. Benefit Ratings
| | |
| --- | --- |
| Benefit Rating | Definition |
| Transformational | Enables new ways of doing business across industries that will result in major shifts in industry dynamics |
| High | Enables new ways of performing horizontal or vertical processes that will result in significantly increased revenue or cost savings for an enterprise |
| Moderate | Provides incremental improvements to established processes that will result in increased revenue or cost savings for an enterprise |
| Low | Slightly improves processes (for example, improved user experience) that will be difficult to translate into increased revenue or cost savings |
Source: Gartner (July 2014)
Table 3. Maturity Levels
Maturity Level

Status

Products/Vendors

Embryonic

In labs

None

Emerging

Commercialization by vendors
Pilots and deployments by industry leaders

First generation
High price
Much customization

Adolescent

Maturing technology capabilities and process understanding
Uptake beyond early adopters

Second generation
Less customization

Early mainstream

Proven technology
Vendors, technology and adoption rapidly evolving

Third generation
More out of box
Methodologies

Mature mainstream

Robust technology
Not much evolution in vendors or technology

Several dominant vendors

Legacy

Not appropriate for new developments
Cost of migration constrains replacement

Maintenance revenue focus

Obsolete

Rarely used

Used/resale market only
Source: Gartner (July 2014)
Evidence
1 The Gartner 2014 CIO survey was conducted in 4Q13 and includes responses from 114 life and P&C insurance CIOs. The webinar took place in January 2014; 70% of the 106 participants were from North America, 30% from Europe.
Source: Gartner Research Note G00260601, J. Weiss, 24 July 2014