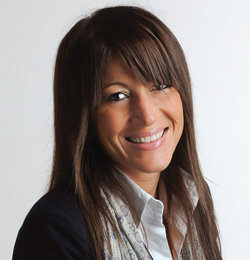 RISE UP TO THE TRA-DIGITAL
New technologies and digital innovation are growing fast and require Insurers to taste the potential and the disruption power of such evolutions on the business: just to name few examples, Big Data exploitation is not so far away from the current business models of many Insurers, as well as the ubiquitous computing and Internet of Things.
The insurance industry, driven by market forces and facing challenges, should catch the opportunities that come from the digital revolution.
Insurers are adopting omnichannel approaches and solutions to respond to the changing behavior of consumers who now use multiple channels for information, comparison, networking, and to buy products or services. Read more
Elena Pistone
Corporate Marketing & Strategic Partnerships Director

Most insurers operate with IT environments that cannot support digital insurance. To stay competitive, they must begin shifting their focus to systems of differentiation and innovation, as well as building strong midoffices to support emerging business processes, channels and data needs.
Key Findings
New business requirements, especially adoption of digital insurance principles and customer experience management, will require new IT capabilities that most insurance companies do not have today.
Competitive advantage in the insurance industry is shifting from operational efficiencies to customer intimacy, data mastery, business model transformation and business process innovation. New IT capabilities are required to support these objectives.
The transformation needed in the IT department (including staffing transitions and new technology acquisition) will be expensive and challenging. It is, however, a core requirement to keep up with business demands during the next two to three years.
Recommendations
Insurance CIOs and IT leaders:
Apply Gartner's pace layers methodology to classify systems into systems of record, innovation and differentiation. Overlay staffing, IT investment and priorities to the classification outcome to determine where focus is unbalanced, and capabilities are lacking.
Assess staffing gaps and limitations. These include the quantity and type of staff needed to support innovation and differentiation initiatives.
RGI Content
Technology Outlook
Disruptive Usability for Enjoyable Digital Experiences
Italians love smartphones and use them more than the other European citizens: 60% of Italians have a smartphone for messaging and for social networking. WhatsApp and Facebook are the most commonly used apps in Italy. (comScore) And worldwide more than 1.5 billion people use smartphone and 1.7 billion people use social media. (Wired)
Up to the Minute
RGI Next – Back to the Future
As every year, in October, RGI organizes its must attended flagship event, "RGI Next", showing the IT insurance market as-is and discussing with the insurance executives the best practices to reach the digital transformation.
Digital Transformation in the Insurance market: From Traditional Infrastructure to New Digital Technologies
Digital is interwoven into each aspect of peoples' daily lives and it has become a common element of every social and business activities: individuals and businesses alike are embracing the digital revolution.
Business Guidelines
Success stories of RGI Group
BancAssurance Popolari Case Study | OBJECTIVE: EFFICIENCY
BancAssurance Popolari and Bancassurance Popolari Danni are two bancassurance companies operating in the Life and P&C branches and which are subject to the management and coordination of Banca Etruria which wholly controls them.